There are many benefits to a low-curb shower. The low barrier creates a safe entry point, helps visually expand a space, and keeps water from draining out. Plus, a low-curb detail is often much easier to construct than a true curbless design. Here, five design pros share how they handled this popular bathroom feature.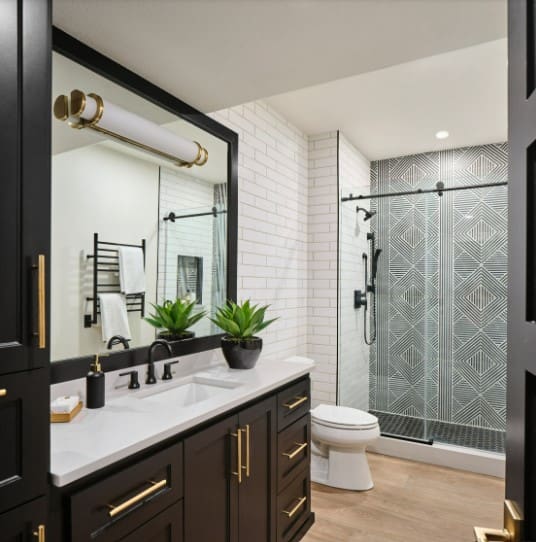 Haven Design and Construction
Geometric Gem
Designer: Jana Valdez of Haven Design and Construction
Location: Omaha, Nebraska
Size: About 60 square feet (5.6 square meters); about 6 by 10 feet
Homeowners' request. "This bathroom is on the basement level of a new-construction home and belongs to the clients' teenage son," says designer Jana Valdez, whose clients found her through Houzz. "His parents requested a modern masculine design that could later be used as a guest bath once he goes away to college."
Low-curb details. "The clients hired us to design the bathroom after the foundation was already poured for their new home," Valdez says. "The floor was not initially sloped for a curbless shower when the foundation was poured, so incorporating a low curb versus a curbless shower was much more budget-conscious at that point in the project. Many clients don't realize that on a new-construction home with a concrete foundation, the decision to go with a curbless shower should be made prior to the foundation being poured."
Other special features. "Patterned geometric shower tile (Nolita matte porcelain tile, 24 by 24 inches, from Tile Bar) adds personality and a modern vibe to the space," Valdez says. "The geometric tile is set against a simple white subway tile for contrast. A frameless sliding glass door with matte black hardware is the perfect finishing touch."
The custom vanity is painted in Onyx by Benjamin Moore. The wood-look tile flooring conceals a radiant heat system.
Designer tip. "We tiled the whole wall next to the vanity to give a more cohesive look and to visually expand the size of the shower," Valdez says.
Wall and ceiling paint: Swiss Coffee, Benjamin Moore; trim paint: Snowbound, Sherwin-Williams; countertop: London Grey, Caesarstone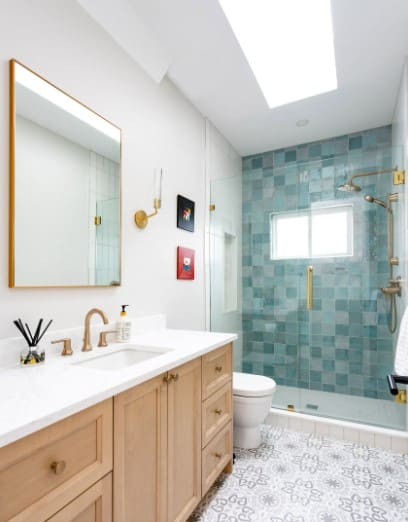 SGDI Sarah Gallop Design Inc.
Aqua Attraction
Designers: Angela Neyman and Joty Randhawa of Sarah Gallop Design
Location: Burnaby, British Columbia
Size: About 50 square feet (4.7 square meters); about 5 by 10 feet
Homeowners' request. "This was the main-floor bathroom in this home, so it would be frequented by guests," says designer Angela Neyman, whose clients used Houzz idea books to share inspiring ideas. "It was also partially used by a teenager for the next couple of years before moving out to go to university. With these things in mind, the space had to have good storage, be functional and easy to maintain, but also be aesthetically pleasing and fun for guests."
Low-curb details. "Wanting to downplay the break in the floor, the curb was wrapped in a coordinating tile to match the shower side walls and shower floor," Neyman says. "This allowed the curb to blend into the shower flooring, allowing your eye to continue to the feature tile on the back wall."
The back wall is 5-by-5-inch ceramic zellige-style tile in a glossy aqua finish.
Other special features. Patterned white-and-gray ceramic floor tile in a matte finish. Shaker-style alder vanity with marble-look quartz countertop.
Designer tip. "Easy to maintain was a primary goal, so sticking with man-made products is a great way to achieve this," Neyman says.
"Uh-oh" moment. "Getting the correct layout and variation for the shower feature wall was a challenge to ensure it didn't end up splotchy or too dark in some areas and too light in others," Neyman says. "To ensure the client was happy with the blend, we did a dry lay of the tile prior to installation. After a couple of adjustments, we got the blend just right and the client was quite pleased with the end result."
Shower accent tile: Tencer Mestizaje zellige wall tile in aqua, 5 by 5 inches, Tierra Sol; lighting: Casoria single sconce in antique brass, 14 inches, Visual Comfort; paint: Intense White (walls) and Distant Gray (ceiling and trim), Benjamin Moore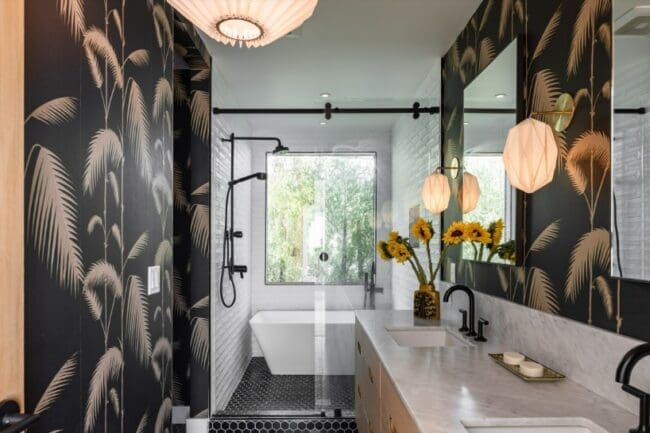 Betty Balian Design
Palm Punch
Designer: Betty Balian Design
Location: Glendale, California
Size: 250 square feet (23 square meters)
Homeowners' request. "The entire layout of the room was reconfigured to include a two-sink vanity, separate washroom area, and a wet room," designer Betty Balian says. "The garden window was also added to allow in natural light along with a touch of nature."
Low-curb details. "I used a graphic tile pattern to run the course of the floor and curb to make the transition, dimension and perspective of the space more interesting," Balian says. "The advantage to having a low-curb shower is that it allows for the water to remain in the wet-room area. While a curbless shower has its own appeal with regards to a seamless transition, it can and tends to have water seep outside the shower door, especially when there are drainage issues."
Other special features. Natural oak vanity with marble countertop. Ceramic shower wall tiles. Palm print wallpaper (Palm Leaves in gold on charcoal, Cole & Son). "The color palette of this space is black, white and yellow," Balian says. "It creates a sense of fun and whimsy while feeling like you are exported to a nature-inspired oasis. All these colors have been incorporated into plumbing fixtures, sinks, washroom and cabinetry. The lighting fixtures also add a natural geometric glow that complements the space. The wallpaper ties it all together with its color story and nature-inspired organic pattern."
Designer tip. "When working with a smaller bathroom, a great way to maximize function and space is to incorporate the tub into the shower area," Balian says. "I also like to use darker colors in smaller spaces, as they tend to recede in the space, making it feel and look larger."
10 Bathroom Design Features Pros Always Recommend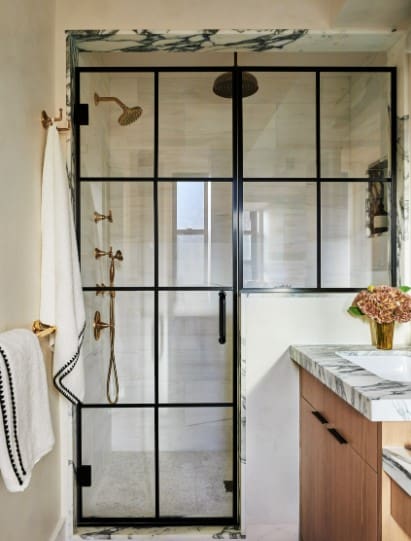 Archetype Architecture
Marble Marvel
Designer: Kylie K. Bass of KKB Interiors
Architect: Archetype Architecture
Location: New York City
Homeowner's request. "Create a timeless oasis with maximum storage capabilities and a makeup counter, as the client is a TV reporter and spends a lot of time in her bathroom getting ready" for on-air appearances, designer Kylie K. Bass says.
Low-curb details. A border of Arabescato Corchia marble frames the low-curb shower entrance and complements the vanity countertop. "A low curb allows for a bath mat to comfortably remain in front of the shower as opposed to a curbless design, where it's easier for water to get onto the bathroom floor," Bass says. "And we wanted to be able to fully outline and accent the shower by using the Arabescato Corchia slab as the trim."
Other special features. "We chose black-paneled shower doors because they have a strong yet elegant presence in this small primary shower," Bass says. "We also loved the combination of pairing them with the clean Bianco Dolomiti marble tiles, broken joint tiles on the shower floor, unlacquered brass Waterworks fixtures and lime-washed walls to create a timeless yet old-world aesthetic."
Designer tip. "If you'd like to achieve the look of plaster walls without committing to plaster, I highly recommend exploring a limewash wall finish," Bass says. "It gives the appearance of textured walls for a fraction of the cost."
"Uh-oh" moment. "Being that this was a prewar renovation, most of the challenges we faced didn't reveal themselves until demolition," Bass says. "For instance, we were anticipating somewhat of a narrow space and, sure enough, when we opened up the walls, there were unmovable pipes in strange places. This forced us to close in on the room and drop parts of the ceiling to conceal them."
Builder: PMN Contracting; custom vanity: GS Woodworking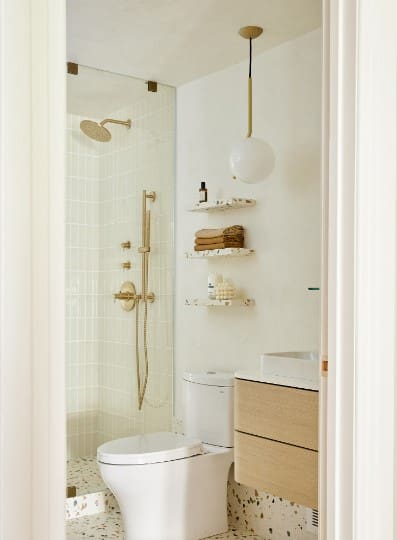 Lorla Studio
Terrazzo Treasure
Designer: Laura Hur of Lorla Studio
Location: San Francisco
Size: 54 square feet (5 square meters); 6 by 9 feet
Homeowners' request. "The homeowners asked us for a bathroom that was highly functional and also really unique and playful," designer Laura Hur says. "They needed more storage and they wanted the bathroom to feel brighter and bigger. At first it seemed like a nearly impossible task to marry the clients' vastly different sources of inspiration, which included images of colorful, playful and bold, almost retro-like design elements, as well as modern, minimal and very neutral spaces. But we found a way to harmoniously marry the thoughtful, minimal details often seen in Scandinavian design with the clients' penchant for bold colors and dramatic spaces."
Low-curb details. The floors, curb, 18-inch baseboard, shower bench and floating shelves are all terrazzo, creating a visually seamless design that helps the space feel larger than it is. Stacked glass shower tiles virtually expand the height of the room. "We primarily achieved the marriage of styles by using bold materials (terrazzo) in a minimal and modern way (clean lines, exaggerated baseboard, floating shelves, etc.)," Hur says. "We drew material and color inspiration from the city of San Francisco, with all of its funky architecture, bold colors, interesting materials and abundance of nature. At the same time, our material application was inspired by the clean lines and minimalist aesthetic found in Scandinavian design."
Other special features. Brass fixtures and a light wood floating vanity add warmth.
Designer tip. "Streamline your material palette to make a small space feel large," Hur says.
By Mitchell Parker, Houzz Editorial Staff. Home design journalist writing about cool spaces, innovative trends, breaking news, industry analysis, and humor.
Premier Home Remodeling in the Greater Phoenix Area
For high-end home design, build, and remodeling in the greater Phoenix area that reflects your vision, Homework Remodels will help you love your home again. Start your project by calling us at (602) 478-5102 or email [email protected] to discuss your remodeling project.  We offer no-obligation in-home consultation. Our NARI-certified award-winning designers and craftsman are eager to work with you to make your vision for your home a reality!  See our portfolio here.
Find more informative blogs and articles on HOUZZ and on our website www.homeworkremodels.com.