A kitchen island offers many benefits — an extra countertop, more storage, a place where family and guests can sit, and improved circulation. But while the advantages of an island may seem straightforward, designing one isn't. There are countless considerations that go into how an island looks and functions. To narrow down the options a bit, we asked 50 design and remodeling pros what kitchen island detail they always recommend to homeowners. Here are the 10 features that came up again and again.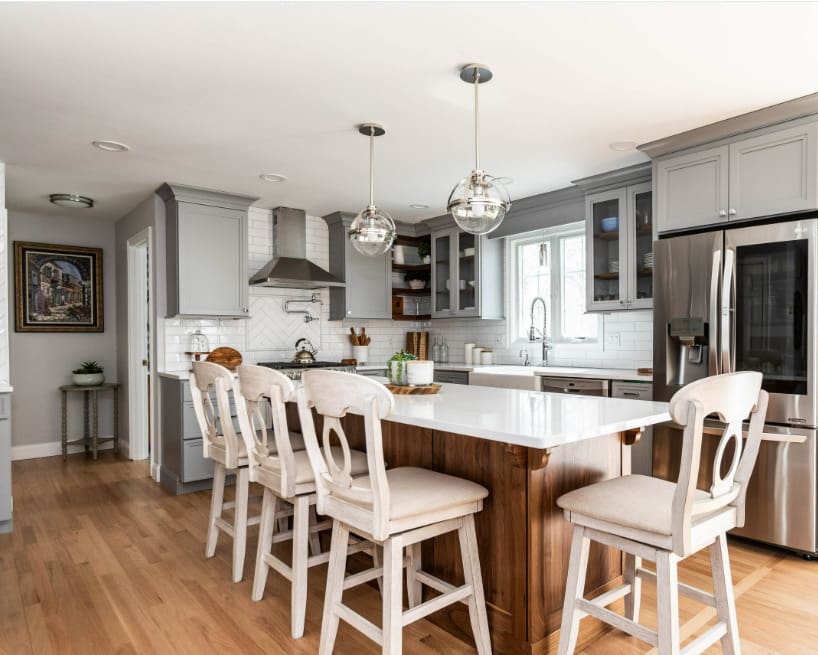 JKB Kitchen & Bath
1. Kitchen Island Seating
By far, the most recommended feature for a kitchen island is seating. "If possible, we encourage seating at least at a portion of the Island," architect Michael Klement of Architectural Resource says. "Given our kitchen-centric lifestyle, whether our clients like it or not, the island will end up becoming the gathering point."
There are a lot of ways to approach island seating, so be sure to discuss the pros and cons of each with your design or remodeling pro.
If you expect that the seating will be used mostly for doing homework or having a quick snack, you might want all the seats facing the same way. If you like being able to look at the person next to you, you might want seating on two sides of your island, as in the Providence, Rhode Island, kitchen by JKB Kitchen & Bath seen here.
Keep in mind that you'll want at least 24 inches of space between each seat for people to feel comfortable.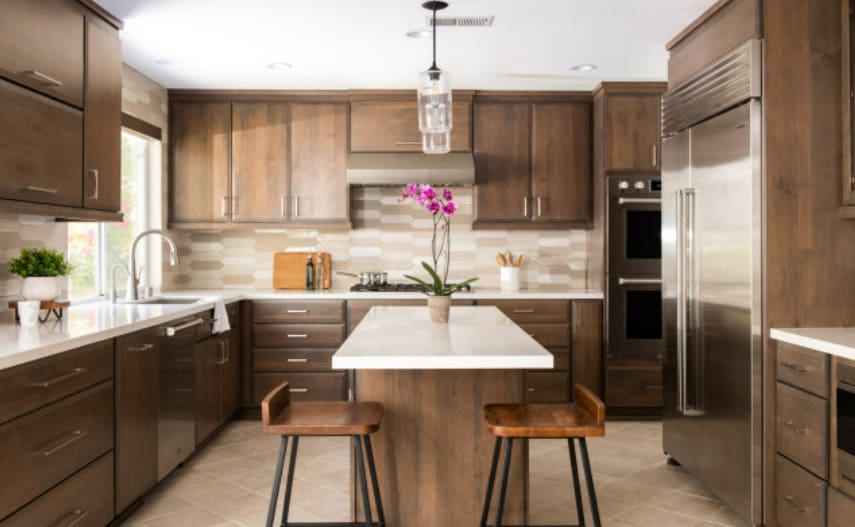 Sea Pointe Design & Remodel
In this Orange County, California, kitchen by Sea Pointe Construction, stools on opposite sides allow two people to face each other when on the narrow island. "Seating on two sides is always better for conversation," designer Mary Jean Cipro of Thomas Sattler Homes says.
How you intend to use island seating will affect other elements, such as the length of the overhang. "Our minimum depth is 12 inches, but our ideal is around 16 to 18 inches of overhang on the countertop to give enough knee space with bar stools," builder Al Kelekci of Hask Custom Homes says.
Designer Jason Thompson of J.THOM Residential Design & Materials likes to leave a bit of an overhang on an island countertop for clamping on accessories like pasta cranks.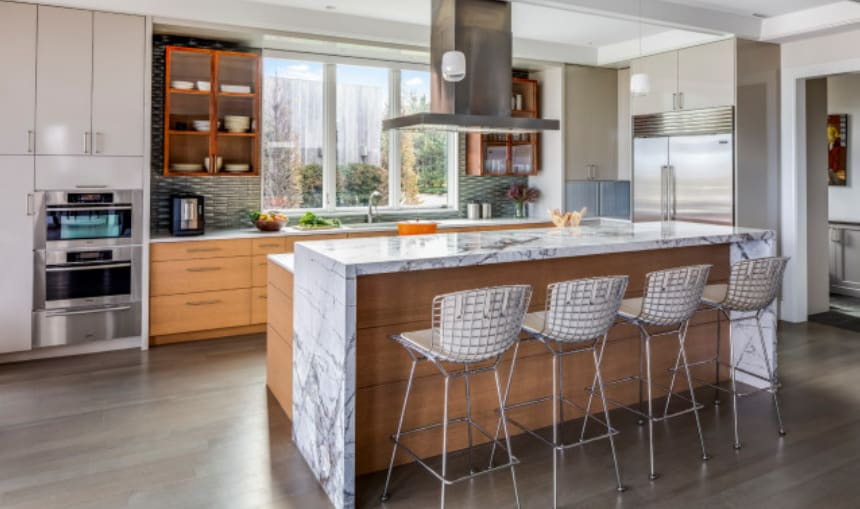 LDa Architecture & Interiors
While the standard countertop height is 36 inches, you might want to consider adding a bar-height portion that's 42 inches, as seen in this Boston kitchen by LDa Architecture & Interiors.
"Having at least one portion set up as a sit-to with a 42-inch-high surface is a very comfortable place to be," Klement says. "It's a height where one can be half sitting, half standing. It is psychologically and physiologically a welcoming, natural place for guests to perch, relaxed and yet engaged."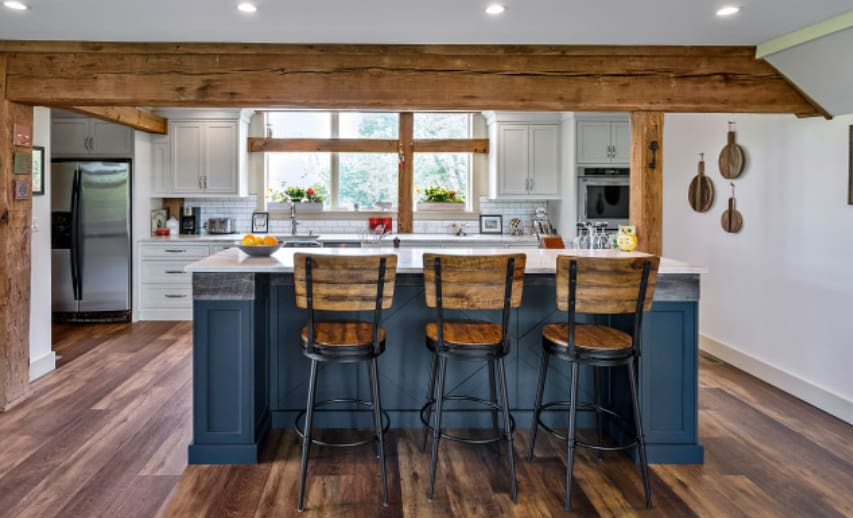 Ailtire Studio LLC
2. Double-Sided Storage
If planned right, a kitchen island can add tons of storage to your space. And while you want to focus most of your attention on storage on the interior side of the island, don't forget the back side.
"Whenever possible, we add extra cabinets under the overhang on the back side to maximize storage," says Chelsea Forse, a design coordinator at King and Society Construction. "It can create a more finished look, and with the latest kitchens moving away from upper cabinets, it helps make up for the storage space that we are now missing."
Architecture firm Ailtire Studio integrated storage on the back side of the island in the Philadelphia kitchen shown here. See the next photo for a peek at the storage.
To access the storage, the homeowners just move the stools out of the way. "Cabinetry on the back side of the island is a great place to stash the holiday platters and Crock-Pots when you don't need them," designer Judith Balis says.
You might also want to consider cabinets, drawers, or shelves at the ends of your island.
New to home remodeling? Learn the basics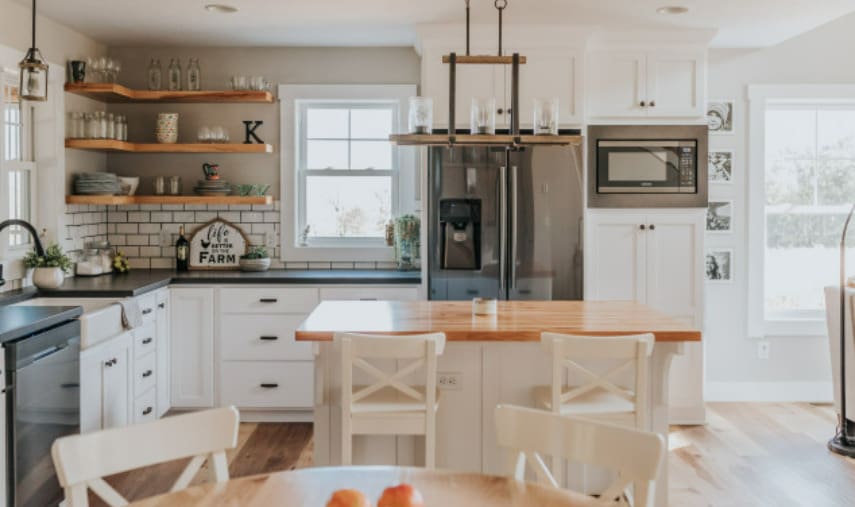 H&H Custom Homes, LLC
3. Kitchen Island Outlets
Building code requires at least one outlet for an island, and more depending on the size of the island. So you'll want to consider the best spot for your outlet or outlets. Be sure to talk with your design or building pro to get their advice and recommendations.
That way you can plug in a blender or mixer right on your prep surface, or you can use the outlets to charge phones and other devices.
An outlet on the back side of an island, as in this Cleveland kitchen by H&H Custom Homes, lets kids charge a laptop while doing homework.
An outlet on the side might be a better spot. Think about where you store your most-used gadgets so you can take them out of a cabinet and plug them in right on the countertop.
You might also want to consider an outlet in a drawer for charging devices so they're not left out on the countertop.
Another thing to keep in mind is the outlet cover style. "A small detail that makes all the difference is having painted or matching wood outlet covers as opposed to a bright white plastic cover against a dark painted or wood island," Thompson says.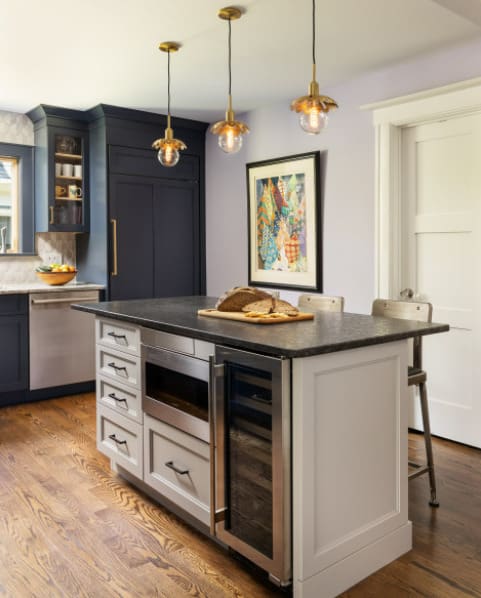 Thyme & Place Design
4. Secondary Fridge
Placing a beverage fridge or fridge drawer in your island can be a great way to let people grab a drink or snack without disrupting the main work triangle in your kitchen. A good spot is at or near the island end that's farthest away from the main action, as in this New York kitchen by Thyme & Place Design.
Another design is to have a beverage fridge on the outer side of the island which lets family members and guests grab drinks without getting in the way of the main traffic area. During parties, the countertop above can serve as a drink-making station while still leaving plenty of work surface on the other side of the island for the cook.
5. Microwave
A microwave in the island serves a similar purpose as the beverage fridge, allowing people to heat up coffee or a snack without getting in the way. If you use your island as the main prep area, having a microwave close by can minimize trips back and forth. Plus, tucking the microwave into the island gets it off the countertop, freeing up more work surfaces, and limiting the visual clutter more than if it were, say, above a range.  A microwave drawer's placement at the outer end of the island lets people use the appliance without entering the main area of the kitchen.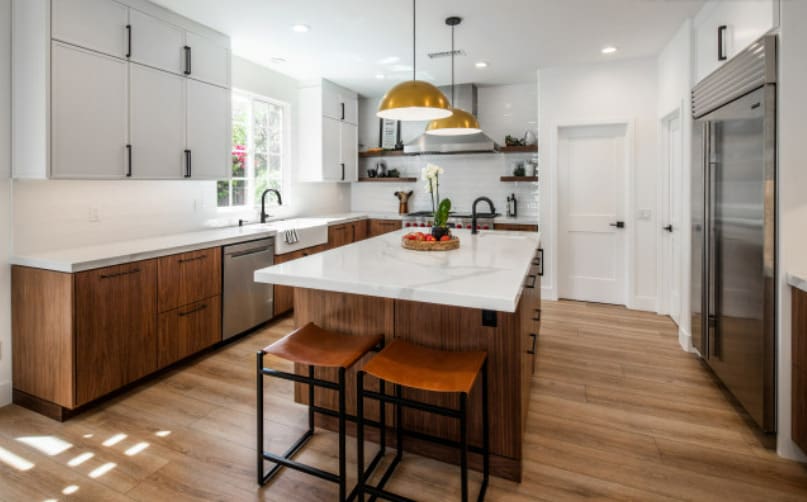 ProPacific Builders, Inc.
6. Durable Countertop Material
The right countertop material is key to a high-functioning island. An island typically becomes the main prep space, gathering area, homework center, and more. So, you want the surface to be as durable as possible.
Many design and remodeling pros swear by engineered quartz for its heat- and stain-resistant qualities. ProPacific Builders used quartz for the island in the San Diego kitchen seen here.
But Quartz isn't the only player in town. Your remodeling professional might have other options in mind that will work better for your needs and style preferences, including some you might not have heard of. Designer ​Erica Bryen recommends Neolith, a sintered stone product. "It is one of my all-time favorite materials that can resemble Calacatta marble, any natural stones, and slate," she says. "It's highly resilient and can be used outdoors too."
Designer Meghan De Maria of Moss Design likes Nano Glass, which she used for the island in her own kitchen, paired with a marble backsplash. "It's great because it is virtually indestructible, and from a design perspective, its sleek, modern finish brings a nice balance to the natural marble," she says.
Keep in mind that the larger an island countertop is, the harder it will be to clean. "I recommend making the island no larger than one [that a person] can comfortably lean across to wipe it clean," designer Carrie Hayward says.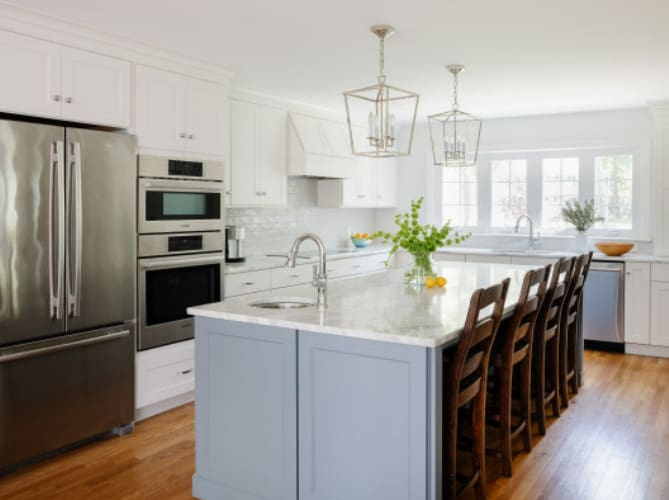 7. Prep Sink
If you choose not to put your main sink in the island, consider adding a prep sink instead. "It allows two people to prep and cook comfortably," designer Jamie Roddy of Eden LA Furniture and Interiors says. If you use your island surface as your main prep area, it means you can rinse items right next to where you're working, rather than rinsing items in the main sink and dripping water on the floor as you transfer them to the island.
One suggestion is to position the prep sink off to one edge of the countertop, preferably near the refrigerator so you can quickly transfer vegetables and other foods right to the basin to rinse. Plus, placing it off to the side keeps a large work surface free on the island that you can use for chopping or as buffet space when entertaining.
The prep sink in the Boston kitchen seen here, by Almar Building and Remodeling, is a good example of how placement at the end of the island looks.
8. Pullout Trash and Recycling
As mentioned, your island is likely to become your main work surface. And that makes it a good spot for a pullout trash-and-recycling center, like the one designer Sarah Robertson of Studio Dearborn designed for the suburban New York kitchen seen here. This placement allows you to wipe food scraps and crumbs right off the surface into a bin.
9. Targeted Lighting
Of course, you can't have an adequate work surface without proper lighting. And pros recommend a layered approach. "Great overhead lighting is essential for both tasks and aesthetics," designer Kimball Starr says. "A combination of accurately placed recessed lighting, undercabinet lighting, and decorative pendants makes for a space people won't want to leave."
Sometimes island pendants can obstruct sightlines and views through a kitchen. In this case, strategically placed recessed lights in the ceiling will bring task lighting right to the work surface.

Shelley Morris Interiors
10. Something Special
Don't forget about style and flair when it comes to your island. "Find a way to make a kitchen island your own with your personality," says architect and interior designer Robin McCarthy of Arch Studio, "whether it be a shelf for cookbooks or a special drawer for gadgets, a special color or finish, or a wine rack. Kitchen islands are one of the single most requested features for a home by our clients, and we want it to be both functional and fun."
Many designers recommend adding furniture-style legs or other details to an island to give it a special look. "We'll add custom leg detailing, or special details on the side panels or underside of the island overhang," designer Mindy Gayer says.
Designer Megan McKeown of M.S. Design Studio agrees with that approach. "I love it when kitchen islands are designed to look like a free-standing piece of furniture," she says. "You can get so creative with this type of design. This is a great spot to mix and match different materials to achieve a collected and balanced feel in the space."
Designer Shelley Morris mixed and matched in the New York kitchen shown here.
Another way to set your island apart is to use a different color or cabinet style. "A kitchen island is like adding icing on a cake," Sindhu Peruri of Peruri Design says. "Add personality and flair here. Most likely, the footprint of most islands is small, so this is the best place to take a risk. I love making it look different than the rest of the kitchen, either in design, color, texture, or in the materials that are used. My favorite is to introduce a different cabinetry style for the island. If the rest of the kitchen is modern and white, having an antiqued island is fun, or change up the cabinetry style into something really dramatic. This is the place to have fun."
10 Ways to Dress Up Your Kitchen Island
Even small details can make your island stand out. Designer Thompson always recommends including integrated cutting boards in the island.
Or if you want to pamper yourself and guests, consider a heated island countertop. "If there's seating at the island, I often recommend a heated pad under the countertop where people sit," designer Sarah Armstrong of Studio360 says. "Sometimes tops can be very cold and therefore uninviting to sit or eat at. By adding an integral heated electric panel, controlled by a thermostat, it takes the chill out of an often cold and shocking surface when you sit at it."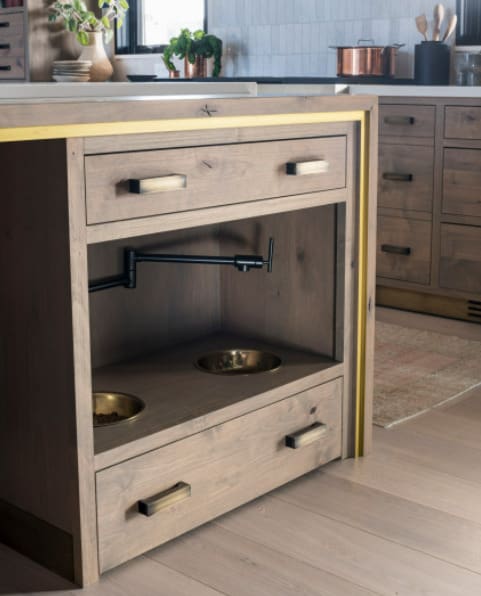 Studio Dearborn
And don't pamper just the humans in your life. The end of an island is a great spot for a dedicated pet feeding station, like the one shown here in a Denver kitchen by Studio Dearborn.
"I often recommend a dog bowl water filler and food [storage] built into a kitchen island," designer Ray Langhammer says. "Why? I love dogs, and any homeowner that is a dog or animal owner loves this feature. It's a designated area for your animal that is out of the way and doesn't get kicked by guests.
Blog shared from HOUZZ. Blog written by Mitchell Parker, Houzz Editorial Staff.  Home design journalist writing about cool spaces, innovative trends, breaking news, industry analysis, and humor.
Premier Home Remodeling in the Greater Phoenix Area
For high-end home design, build, and remodeling in the greater Phoenix area that reflects your vision, Homework Remodels will help you love your home again. Start your project by calling us at (602) 478-5102 or emailing [email protected] to discuss your remodeling project. We offer no-obligation in-home consultation. Our NARI-certified award-winning designers and craftsmen are eager to work with you to make your vision for your home a reality!   See our portfolio here.
Find more informative blogs on our website here.