They say change is the only constant in life. Lately, that notion feels all too true. But in an ever-changing world, many people are seeking stability — and joy — right at home. And in turn, a lot of homeowners are emerging from the last couple of trying years with renewed vigor for creating lively homes full of color, pattern, texture, and optimism.
To capture some of that energy, we've gathered 35 home design trends that homeowners and pros are excited about for the coming year. See if any inspire a change to your own home. And from now on, maybe we can put a positive spin on change and just call it progress.
HOME DESIGN TRENDS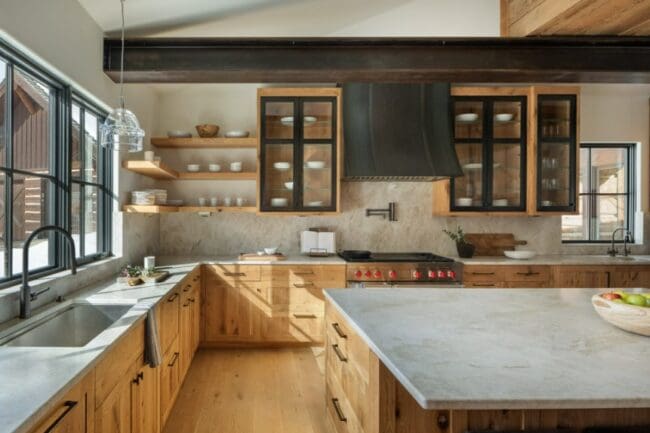 Kitchens
1. Modern Rustic Style
A few themes weave throughout these 2023 design trends. Among them are the use of natural materials and a general feeling of warmth. You'll find both in a modern rustic style we're seeing show up in kitchens.
Think natural wood cabinets and other wood details paired with natural stone countertops and backsplashes, with a few modern elements thrown in.
This Montana kitchen by Centre Sky Architecture beautifully highlights the look. Taj Mahal quartzite countertops and slab backsplash and wire-brushed white oak cabinets create a rustic vibe, while a steel beam, a steel range hood, and black details give the space a modern appeal.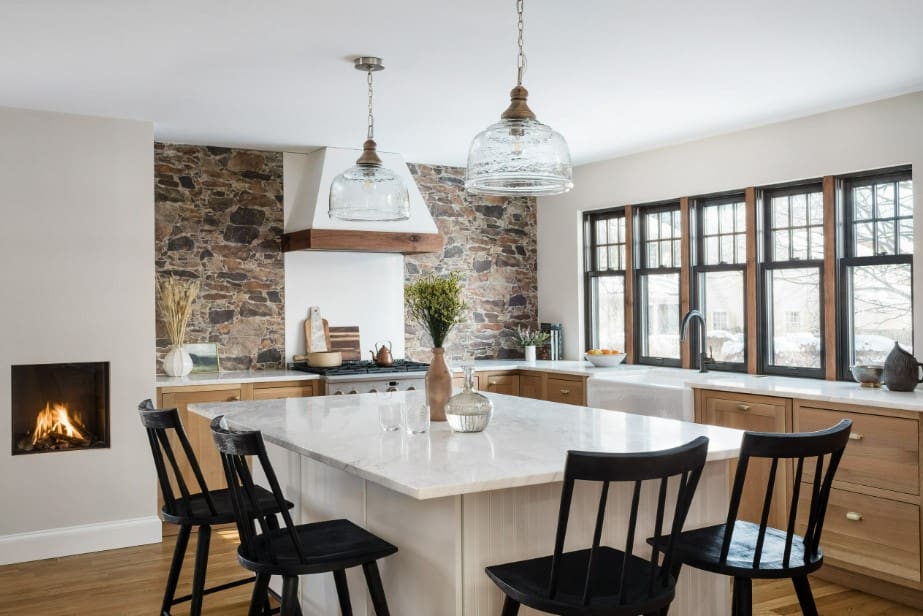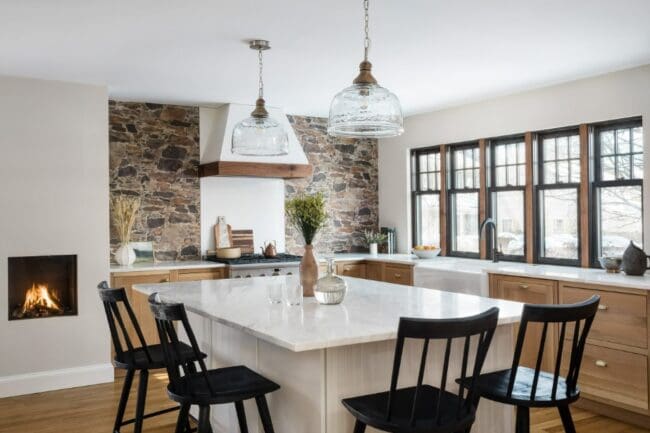 This Melrose, Massachusetts, kitchen by Hannah Oravec of Lawless Design is another great example of the trend. Quartersawn white oak perimeter cabinets with flat fronts add clean lines and warmth. Off-white walls, a white island with beadboard detailing, and a fireplace bring some charm, while a stone-look backsplash tile and honed marble countertops add a rustic touch. This was the most-saved kitchen photo on Houzz in 2022.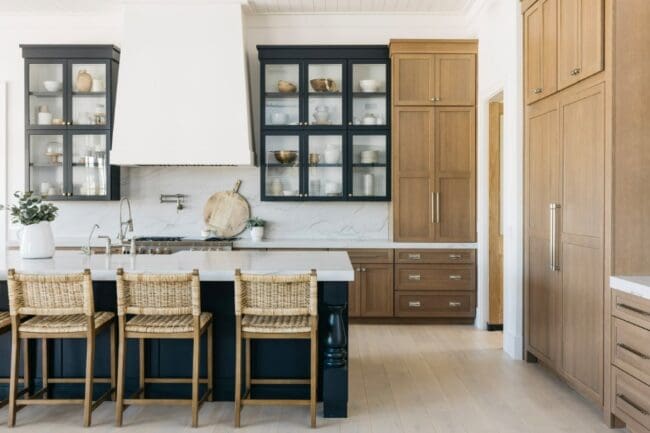 Ashtin Homes Luxury Build and Design Firm
2. Elegant Farmhouse Style Another style showing up in kitchens is a more elegant take on the modern-farmhouse style that's been popular in recent years. You'll find many of the same elements, such as Shaker-style cabinets, apron-front sinks, and furniture-style islands and cabinets. But you'll also notice the use of dramatic cabinet colors, oversize range hoods, and slab stone backsplashes. This Arizona kitchen by Ashtin Homes exemplifies the style with a jet-black island and upper cabinets (Midnight Black by Benjamin Moore), turned island legs, Shaker-style rift-sawn white oak cabinets, and quartzite countertops and slab backsplash.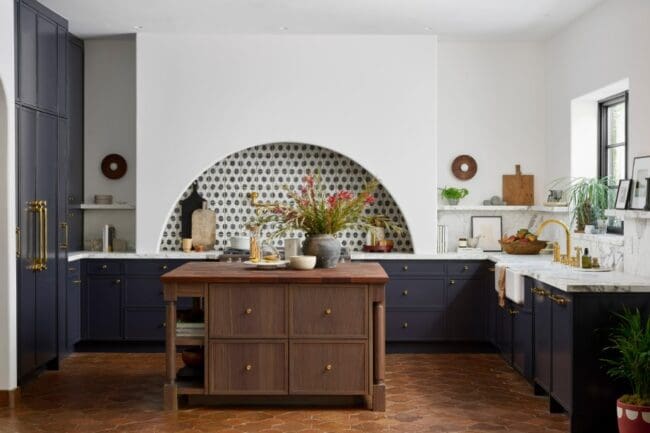 3. Modern Spanish Style Meanwhile, an updated approach to the Spanish style is also taking hold. This Scottsdale, Arizona, kitchen by Cdot Design Studio is a good example of what it's about. Terra-cotta floor tile, an arched range hood with a hand-painted terra-cotta tile backsplash, and a custom island with an end-grain walnut butcher block counter and spindle leg detail update the old-world style with a contemporary twist.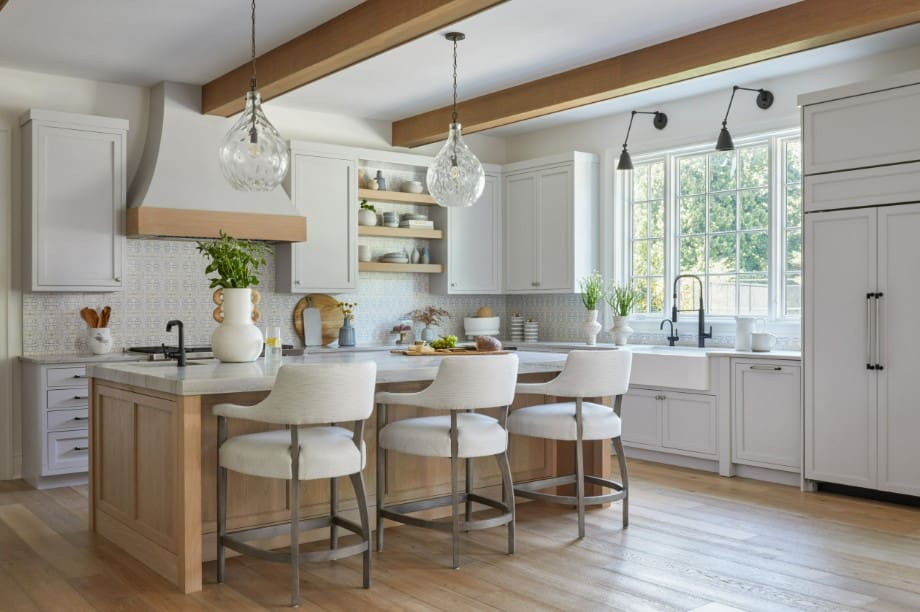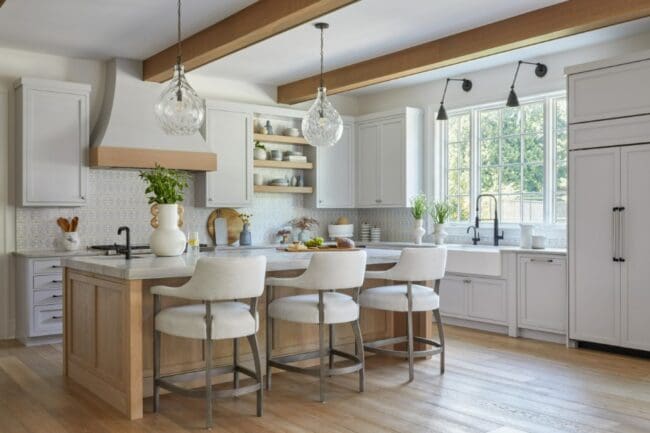 k+co LIVING – Interiors by Karen B Wolf
4. Warm and Soft Palettes While some homeowners are desiring bold colors in their kitchens, many are looking for warm and soft styles that elicit a restful, relaxing atmosphere. To do that, designers are embracing greige or off-white cabinets, light woods, subtle patterns, and warm bronze and brass finishes.Designer Karen Wolf embraced soft colors in this New York kitchen to create an inviting style.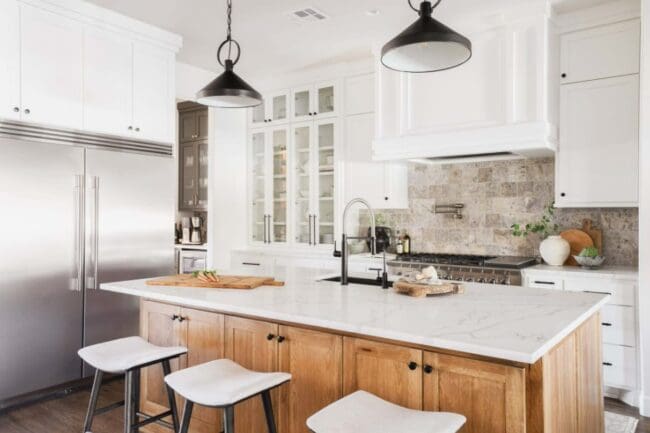 5. Natural Materials  Natural materials are always in style, but lately, they seem to have hit a high point in popularity. In particular, homeowners are installing quartzite and other natural stone countertops, as well as marble tile and wood cabinets and vanities, especially white oak. Some designers say the surge of interest in natural materials is a result of some homeowners rethinking man-made materials like engineered quartz that have dominated homes in recent years and instead gravitating to natural materials that add character and authenticity to a space. Designer Kirby Foster Hurd of Kirby Home Design used 6-by-6-inch tumbled travertine in silver to add a natural element to this Edmond, Oklahoma, kitchen.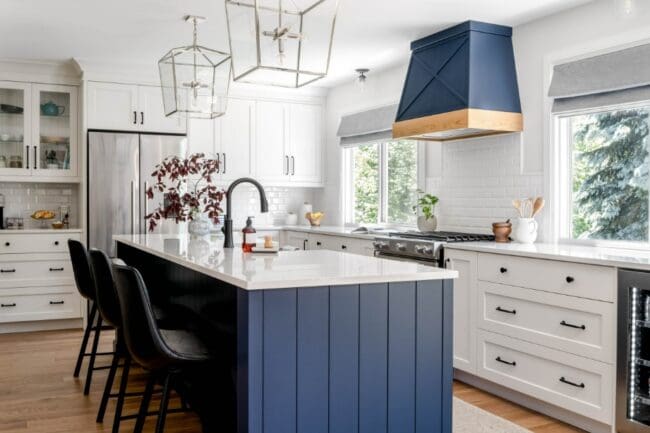 6. Blue Features  White and gray are by far the most popular colors used in kitchens. But when homeowners stray from that palette, they often choose blue. In fact, when a homeowner chooses to go with an island color that contrasts with the surrounding cabinets, more than a quarter (26%) will select blue, according to Houzz research. For this Guelph, Ontario, kitchen by Otis Interiors, the homeowners looked to Houzz photos to inspire the mostly white palette with pops of blue, including a navy blue island (Hale Navy by Benjamin Moore) and range hood.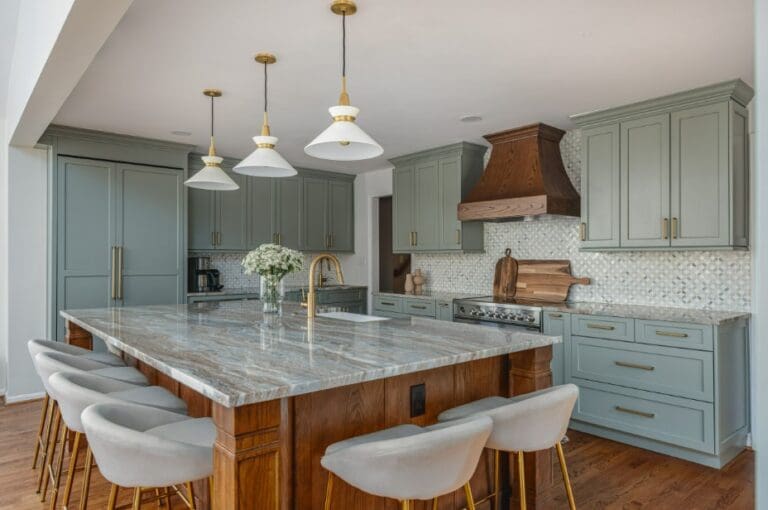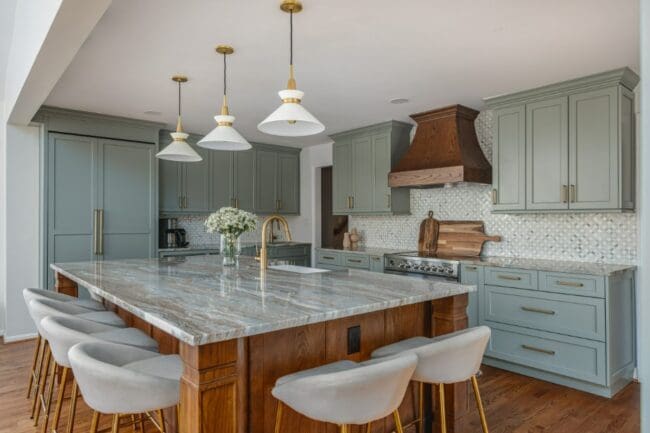 7. Green Cabinets  In addition to blue, green is quickly gaining favor in kitchens, especially for cabinets. Both light and dark greens work well with wood details and brass finishes, creating a warm, rich look. This Vienna, Virginia, kitchen by FineLine  Kitchens was one of the most-saved kitchen photos of 2022; it combines sage green perimeter cabinets (Moon Bay by UltraCraft) with a medium-tone oak range hood and island base. Ming Green floral tiles with white Thassos marble pieces add another green detail, while brass pendant lights and Brown Fantasy natural quartzite countertops complement the warm wood tones.
8. Wood Cabinets  Wood cabinets are trending along with the surge in natural materials. White oak seems to be dominating the choices, but walnut is also popular.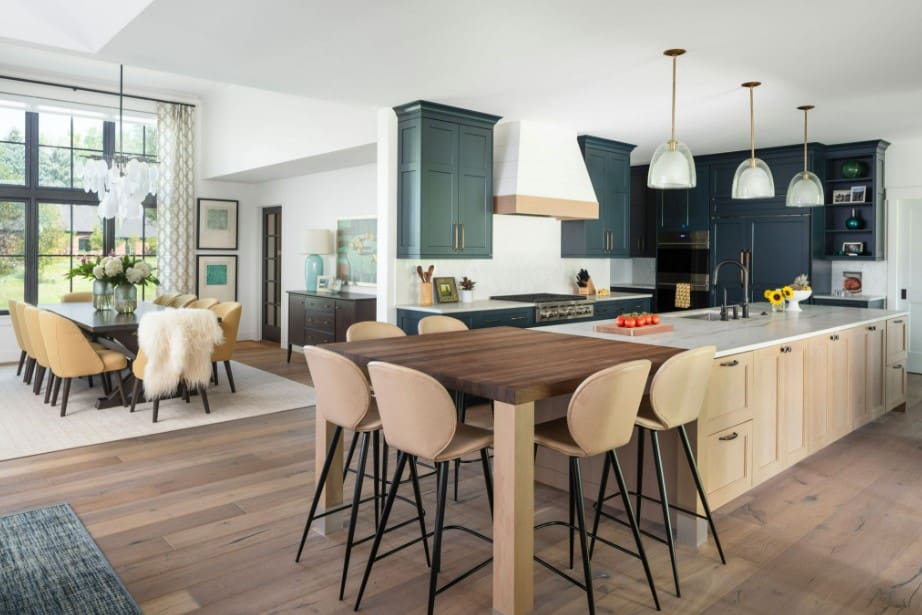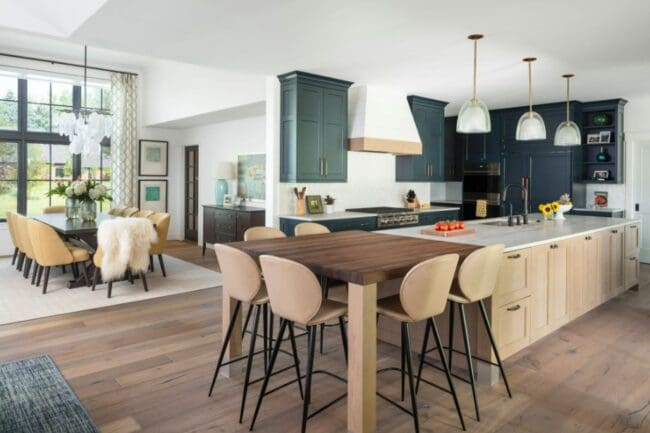 9.  Creative Island Seating  Casual seating is just one of many appeals of a kitchen island. While the traditional seating arrangement has typically been a row of stools on one side facing the cooking area, some homeowners are seeking alternative setups to accommodate a variety of needs, such as the ability to sit face-to-face with guests or sit at a standard dining table height. As a result, we're seeing a lot of islands with creative seating arrangements, such as two-tiered designs with seating for 10 and dropped-down or raised-up areas for various needs.
Designer Jenni Pruett of Pruett & Co. created distinct island seating in this Cherry Hills Village, Colorado, kitchen with a raised portion of butcher block.
10.  Commercial-Style Faucets  Many home chefs are gravitating to commercial-style kitchen features to better tackle cooking tasks. In response, many faucet brands have launched new commercial-style faucet lines that blend industrial and modern looks.
11.  Workstation Sinks  Workstation sinks are also part of the drift toward commercial-style features. These have been around for many years now, but manufacturers have caught up to the demand and now offer all kinds of sizes, styles, and accessories for things like chopping, straining, drying, and other functions.
12.  Induction Cooktops  It seems these days everyone knows someone who's jumped on the induction cooktop bandwagon. For the uninitiated, this method uses electricity to heat pots and pans directly through magnetic induction. These cooktops work with many types of pots and pans — such as stainless steel, cast iron, and porcelain enamel on metal — but they don't work on all, so you might have to replace some of your cookware. If a magnet sticks firmly on the bottom of a pot or pan, the piece will work with induction.
The benefit is that those pots and pans heat much quicker and cook more evenly than with gas or electric cooktops.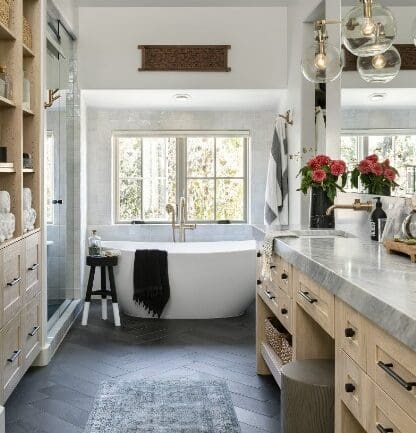 Bathrooms
13. Natural Materials
As mentioned, natural materials are experiencing a surge in interest. In bathrooms, that means natural wood vanities, stone countertops (especially marble), and stone tile flooring and walls.
This Denver bathroom by Factor Design Build features a Carrara marble countertop and a natural wood vanity and other wood storage components.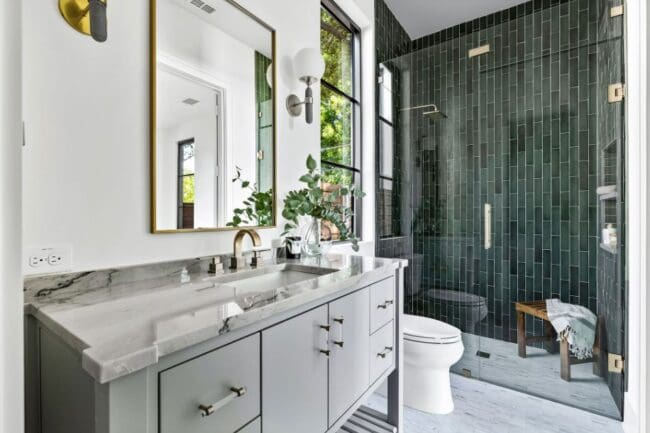 Shaddock Caldwell Builders & Developers
14. Curbless Shower With Continuous Flooring  Curbless showers has been a popular bathroom feature for a while. Often the shower flooring is tile in a smaller size or different material than the main flooring, to provide a nonslip surface in the wet area. But more recently, many designers are running that mosaic tile continuously through the entire bathroom, including the curbless shower area. This approach further enhances the sleek, streamlined effect of a curbless shower design, extends the nonslip surface, and helps a small space appear larger than it is.
In this Dallas bathroom by designer April Schneider of F+P Studio and Shaddock Caldwell Builders & Developers, white marble mosaic tile runs the length of the room. The tile provides a clean look, a nonslip surface, and an easy entrance into the shower. It also draws the eye to the beautiful green tile that wraps around the shower.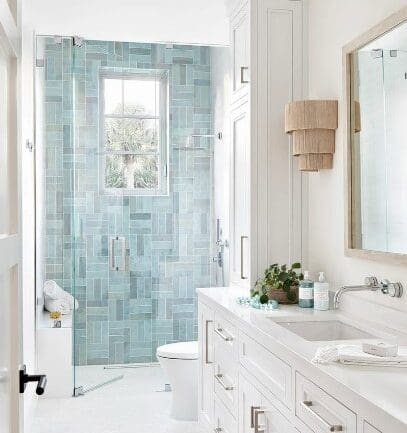 15. White-and-Blue Palettes  Similar to blue accents in kitchens, this color is becoming a go-to in many bathrooms to perk up popular all-white palettes without veering too bold.
In this West Palm Beach, Florida, bathroom, HW Interiors created a soothing focal wall in the shower with watery blue tiles installed in a basketweave pattern. White finishes enhance light and deliver an airy look and feel, as does the chevron-pattern white floor tile that runs the length of the bathroom into the curbless shower.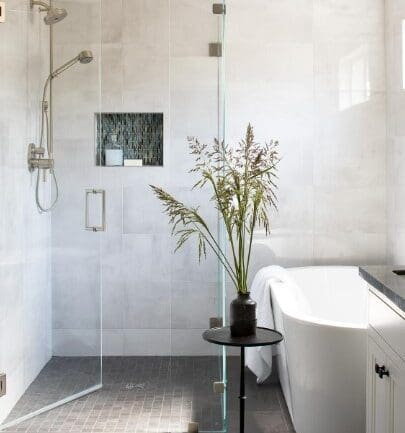 DiVittorio Architecture & Design
16. Bathing Experiences  Many homeowners are looking to create bathrooms that function for more than just bathing. They want relaxing experiences.
To create that, many are embracing pamper-me features like multiple shower heads with various spray settings, such as deep massage or warm mist.
DiVittorio Architecture & Design included a regular shower head, a rain shower head, and a handheld sprayer in this San Francisco bathroom. A handheld assists with shaving one's legs makes rinsing down shower walls and enclosures easier and is great for washing pets.
17. Bold-Contrast Bathrooms  All-white bathroom finishes continue to dominate homeowners' choices. But in recent years some people have been inching toward hits of dark contrasting colors. Navy blue vanities and accent tile have gained popularity, and some homeowners are taking a step further to the dark side with jet-black vanities and other black details set against crisp white backdrops. The white finishes keep things light and airy, while the black creates a touch of drama. Brass details and wood-look tile flooring help add warmth to the classic palette.
LIVING ROOMS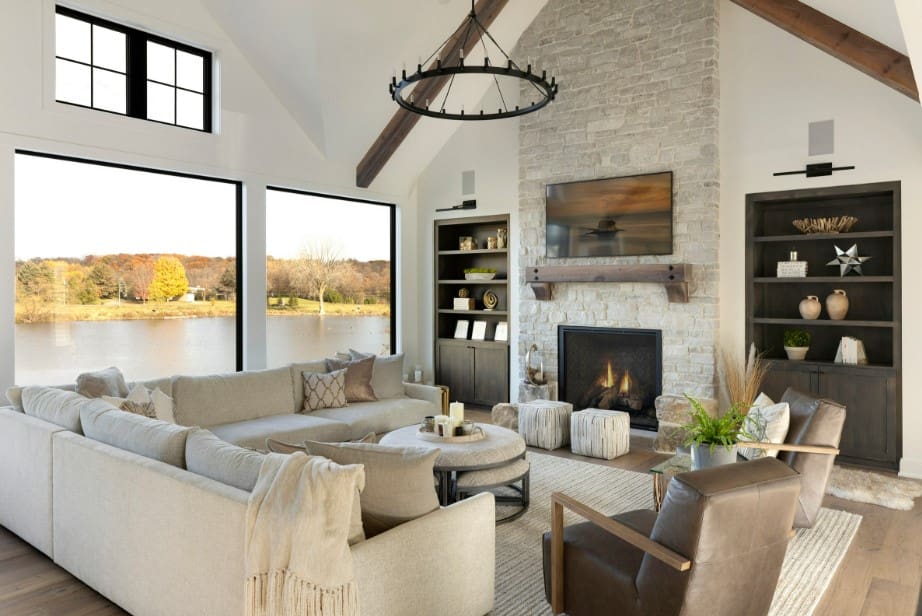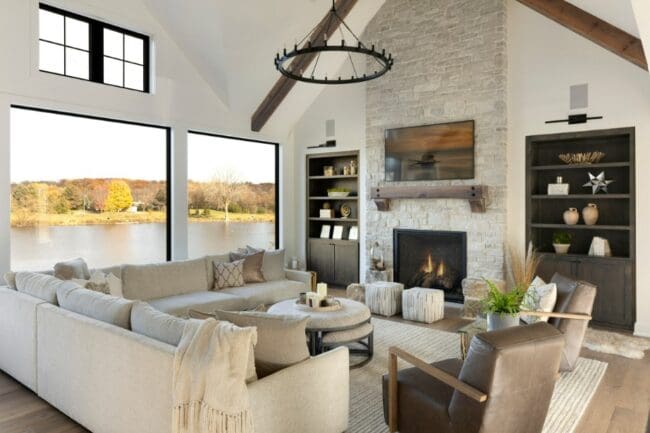 18. Modern Rustic Living Rooms
In living rooms, demand for natural materials is leading to a modern rustic style that's both rugged and cozy. Natural stone fireplaces and surrounds, wood beams, and off-white walls mix with comfortable furnishings in organic whites, browns, and beiges to create an updated look that feels anchored to a rural past.
This Mound, Minnesota, living room by Swanson Homes and designer Dalia Carter of Carbon 6 Interiors features a tumbled natural stone fireplace surround, rough-hewn ceiling beams, and mantel and dark-stained alder built-ins. This was the most-saved living room photo on Houzz in 2022.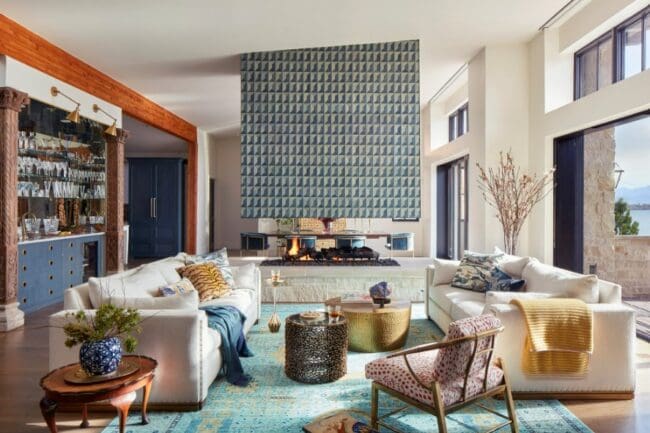 19. Color, Color, Color  A renewed interest in bright and bold colors is one of the trends we're hearing about most from design and remodeling professionals. The shift away from mostly neutrals and whites is something many pros attribute to the pandemic. These days, homeowners seem more adventurous and willing to take a chance on creating brighter, more vibrant spaces. Wallpaper is helping fuel the rush to color, with many homeowners using wild patterns and colors to add pop and personality.
Designer Andrea Schumacher layered bold colors and patterns in this Denver living room, injecting it with a lively style.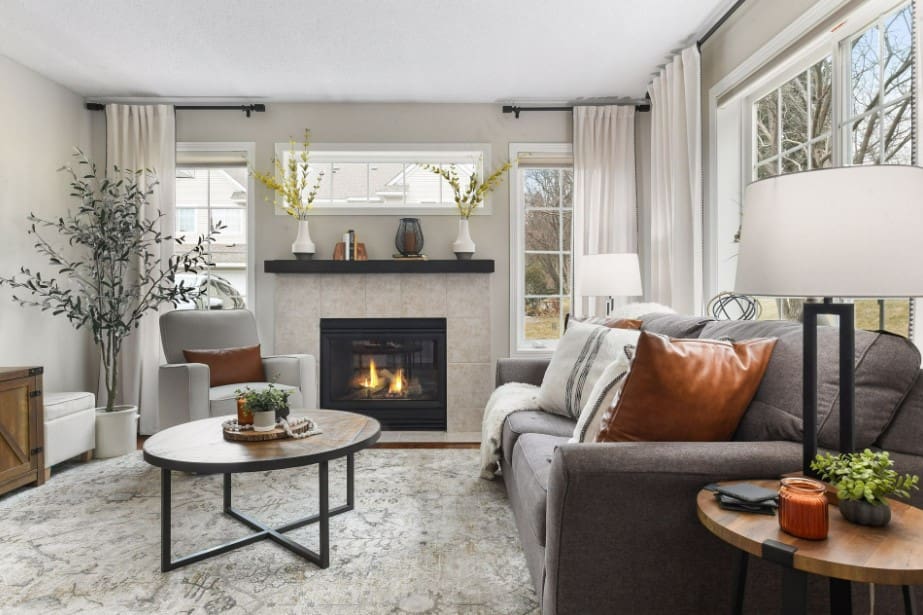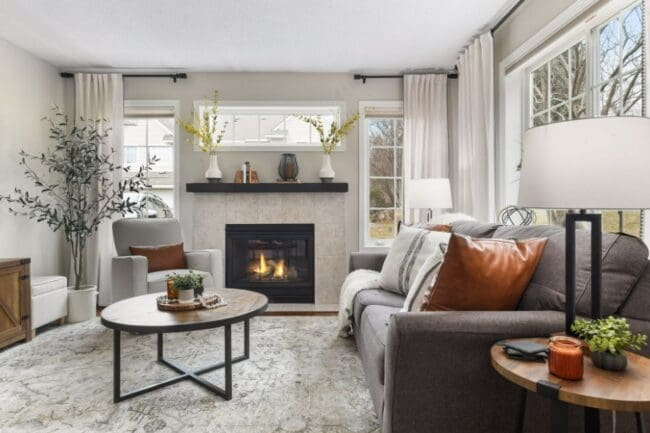 20. Warmed-Up Gray Palettes Despite the resurgence of interest in bold colors, neutral palettes still dominate many homeowners' preferences. White and wood remain popular, but warmed-up gray and greige palettes are on the rise.
Designer Debra Garvin of 1st Impressions Design used a warm greige (Agreeable Gray by Sherwin-Williams) to create an inviting look in this Chanhassen, Minnesota, living room. She then layered various shades of gray in the furnishings to strengthen the palette.
21.  Layers of Textures  One phrase that has come up again and again in conversations with design professionals is "layered texture" in decor, wallpaper, materials, and accessories. We're seeing a lot of designers layer wood, rattan, stone, metal finishes, concrete, and various textural fabrics in a room to create a dynamic style full of visual and tactile interest.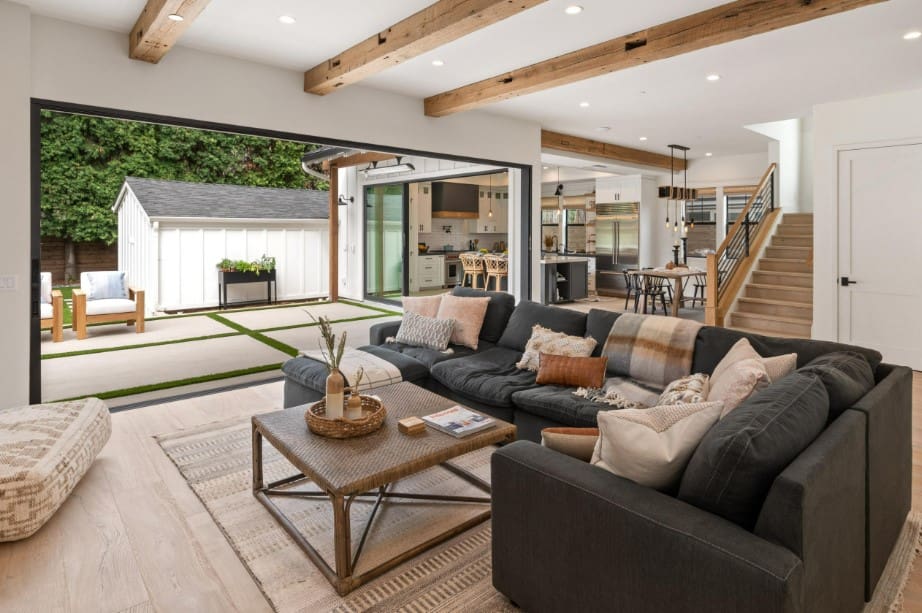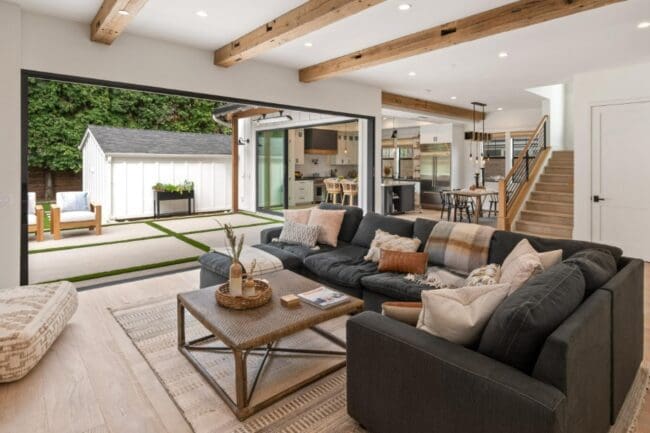 22. Connections to the Outdoors Homeowners have long craved deep connections to outdoor spaces. Sliding glass doors that completely open interior spaces to the outside are at the top of many dream features lists. But many pros are helping homeowners find more affordable ways to bring the outdoors in. Adding large windows can maximize views and bring in tons of natural light in a less expensive way than fully glazed walls. Meanwhile, a focus on natural materials and colors, as well as wallpaper prints that recall nature, are also helping homeowners feel connected to the outside.
This San Diego home by Jackson Design & Remodeling features sliding doors that completely open the kitchen and living room to a backyard patio.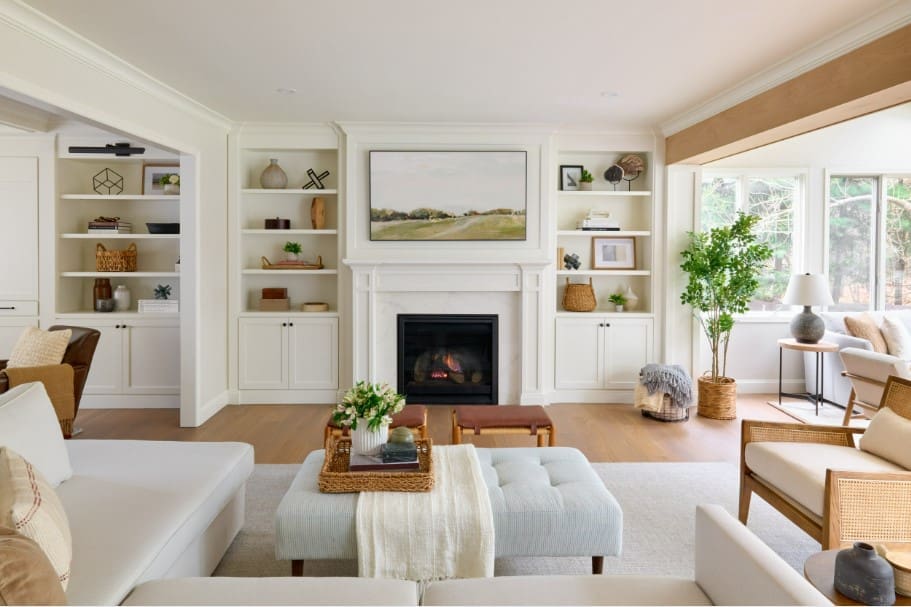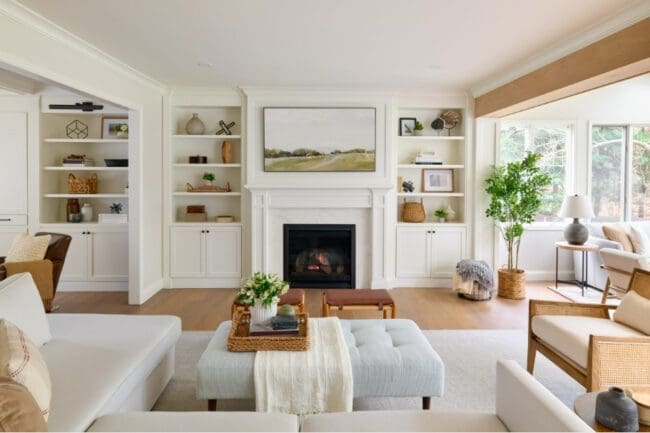 23. Built-Ins  Custom built-in cabinets give homeowners storage and display space as well as a finished look, which is why they're one of the top design features professionals recommend in a living room.
Designer Stephanie Alegre added these custom built-ins flanking a fireplace surround in a Holmdel, New Jersey, living room. A bar sits to the left, with additional storage on the right.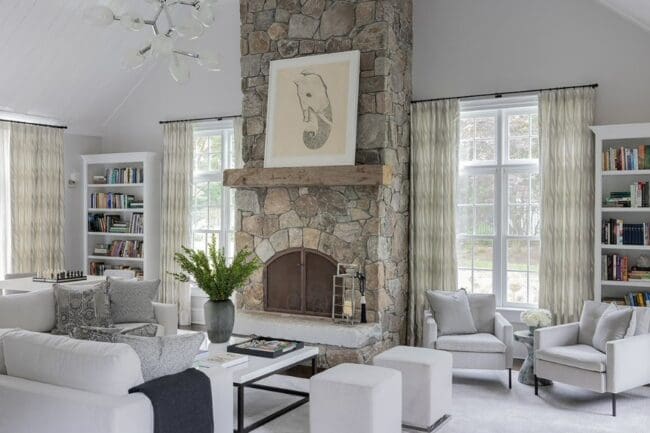 24. Multiple Seating Options If you want to create a living room that can handle intimate occasions and lively parties, pros recommend integrating various seating options that can accommodate multiple family members and guests.
Consider combinations of sofas, love seats, ottomans, armchairs, swivel chairs, and even window benches and fireplace hearths. This Boston living room by Jill Litner Kaplan Interiors shows how it's done.
25. Large Area RugsAnother living room feature pros often recommend is a large area rug that anchors the room and provides a jumping-off point for building a cohesive color palette and adding texture and softness.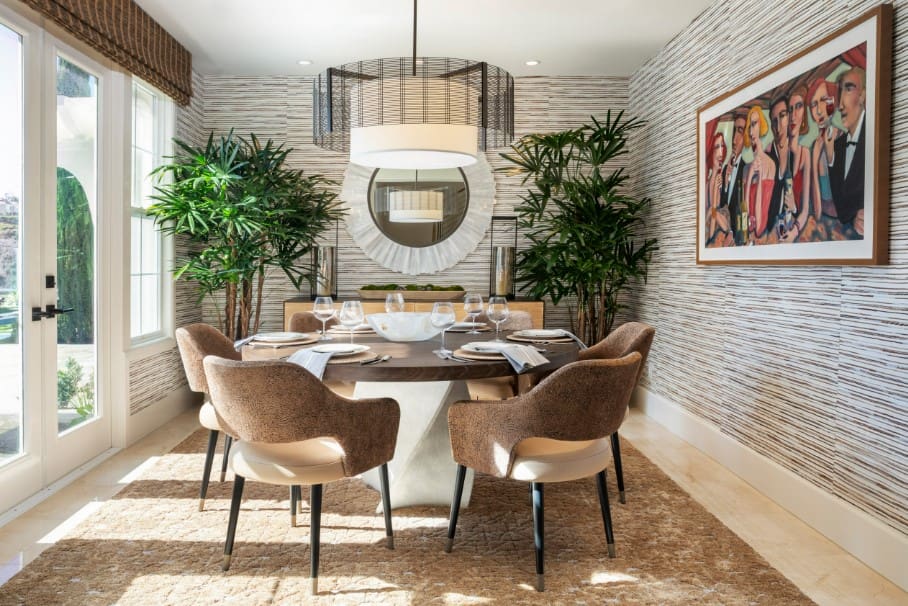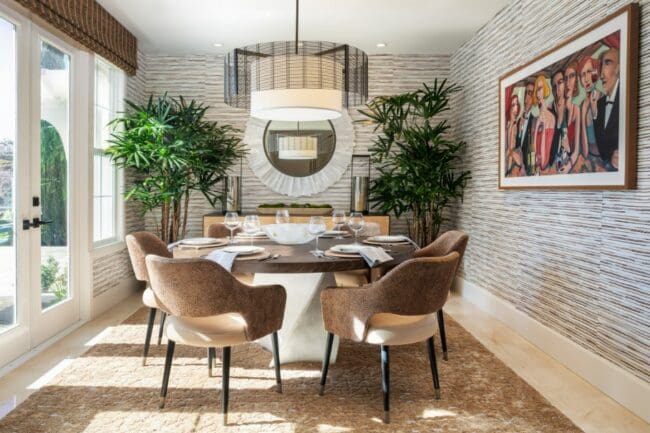 Other Interior Trends
26. Wallpaper
As mentioned, wallpaper is contributing to an expansion of bold colors and patterns being used in the home. On Houzz, search trends show a rise in interest in wallpaper in 2022 compared with 2021. Searches were up for "paintable wallpaper" (93%), "chinoiserie wallpaper" (71%), "floral wallpaper" (52%), "ceiling wallpaper" (40%), "Art Deco wallpaper" (33%) and "dog wallpaper" (46%).
Graphic wallpaper perks up this formal Southern California dining room by McRae Lambert Dunn architects and helps visually lengthen and widen the footprint.
27. Playful Traditional Style  In light of homeowners embracing bright color, wild wallpaper, and layered looks, many pros are seeing a maximalist decor style take hold, specifically a perked-up traditional look that combines vintage pieces with lots of upbeat patterns and wall coverings. Think of it as a traditional style returning in a fun way. Some pros say supply chain issues during the pandemic helped spawn the trend by forcing homeowners to look locally for antiques and recycled, repurposed, or reupholstered pieces with whimsical details and a pretty patina.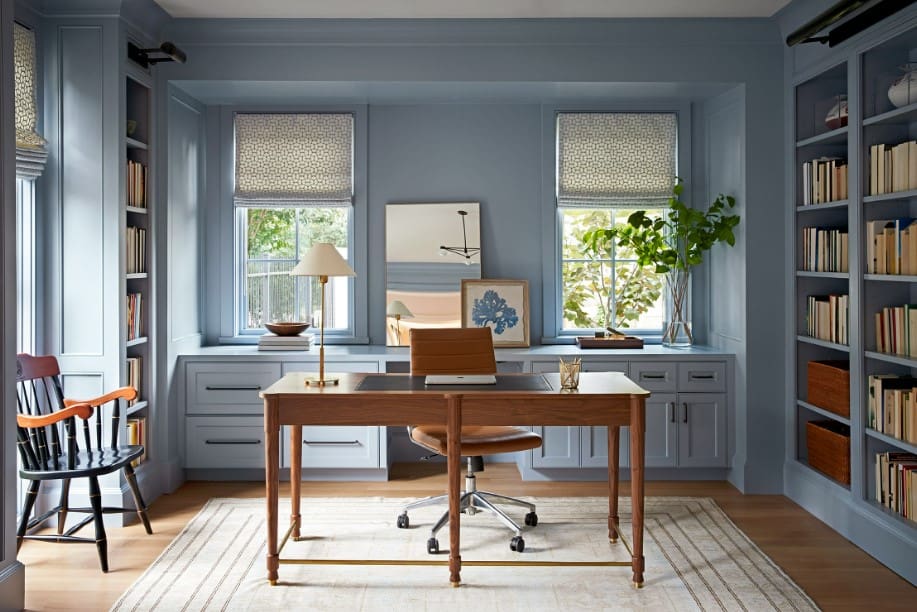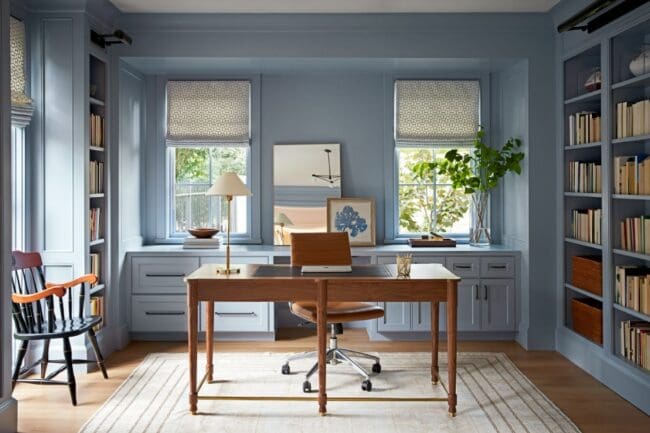 Home Offices
28. Built-Ins
When storage and organization are a top priority, going the custom built-in route is what pros recommend. Similar to what we're seeing in living rooms, built-ins are showing up in many home offices to tackle storage and display space.
Laundry Rooms
29. Moody Cabinet Colors
Moody cabinet colors are contributing to an ongoing trend in kitchen-inspired looks showing up in laundry rooms. In this San Francisco laundry room by Studio3 Design, the dramatic cabinet color complements the equally dramatic wallpaper.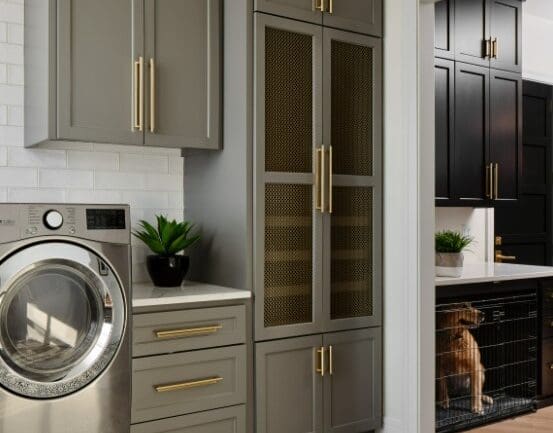 30. Mesh Cabinet Fronts  One interesting feature showing up in laundry rooms is mesh-front cabinet doors like those in this Omaha, Nebraska, laundry room by Haven Design & Construction. These allow users to air-dry delicates inside without leaving them on display to visually clutter up the room.
You'll also notice the on-trend moody cabinet color (Chelsea Gray by Benjamin Moore).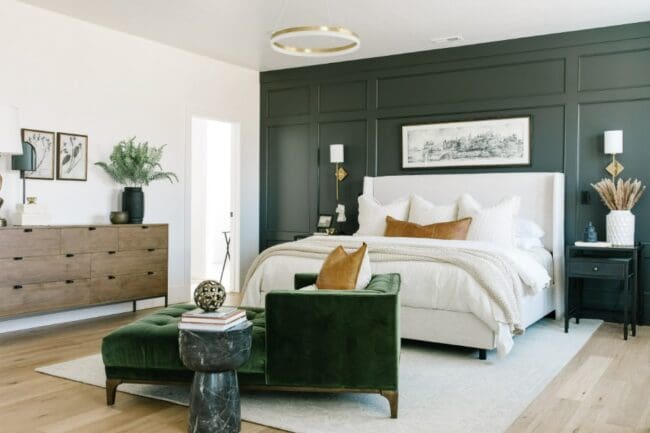 Bedrooms
31. Dark Millwork Accent Walls
Speaking of moody colors, the approach is also making its way into bedrooms as a dark accent wall behind the headboard, most often accompanied by millwork. The approach helps add depth to a room, allows the bed to stand out as a focal feature, and creates a dramatic style.
This Utah bedroom by Grove Collective showed how it's done, helping it become the most-saved bedroom photo on Houzz in 2022.
Color
32. Beige Is Back
As mentioned, greens and blues remain popular with homeowners, especially in kitchens and bathrooms, but warmer colors seem to be dominating many interiors.
"The big news is that beige is back," says interior designer and color expert Jennifer Ott. "But it has different undertones than those from '90s beige. It's less yellow and instead has pink or green undertones."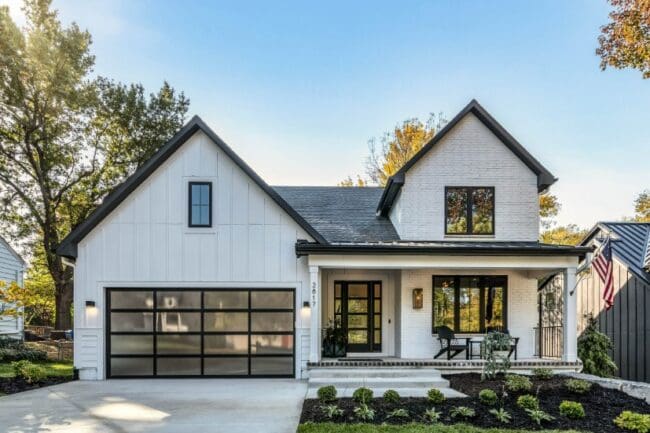 33.  Dramatic Exterior Palettes  When it comes to exteriors, white board-and-batten or vertical siding continues to be popular. Lately, these bright whites are being contrasted with black details such as windows and trim to create graphic curb appeal, as shown on this Kansas City, Missouri, home by Moffitt Built.
On the other hand, Ott says she's increasingly noticing a shift to less contrasting colors. "Darker siding colors in muted shades of blue, green, warm gray or tan are complemented by trim and accent colors that are just a few shades lighter or darker than the siding," she says. "And, depending on the architectural style of the home, a fun accent color for the front door remains popular."
Landscapes
34. Outdoor Lounges
Over the last couple of years, we've seen homeowners look to their outdoor spaces to accommodate a variety of activities, including cooking, dining, and exercising. But few things trump lounging, and increasingly these areas are garnering lots of attention.
Durable, comfortable furnishings, stylish shade structures, and pampering features like outdoor heaters, fire pits, chandeliers, and water elements can create an enviable lounge area.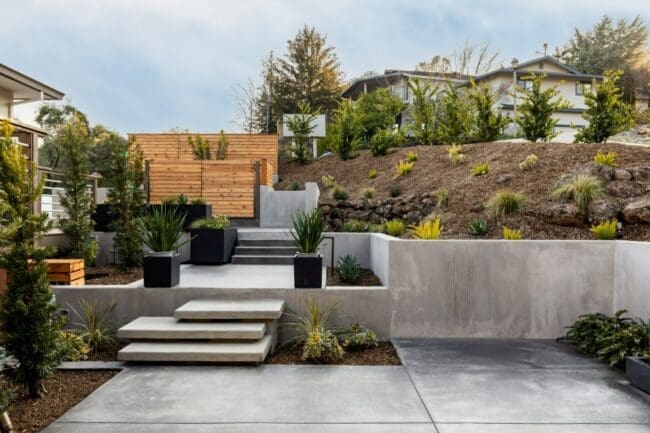 Stroke of Nature Landscape Design
35. Sustainability A desire for sustainable materials and features has been common for a number of years now. But it seems an intense shift is on the horizon. Many homeowners, manufacturers, and design and remodeling professionals appear to be converging with a shared interest in using long-lasting materials, water-saving features (both inside and out), energy-efficient appliances and windows, and products sourced and made in environmentally friendly ways.
This blog was written by Mitchell Parker, Houzz Editorial Staff. Home design journalist writing about cool spaces, innovative trends, breaking news, industry analysis, and humor.  January 1, 2023  [Some photos have been omitted for space.  See the entire blog on HOUZZ.]
Premier Home Remodeling in the Greater Phoenix Area
For high-end home design, build, and remodeling in the greater Phoenix area that reflects your vision, Homework Remodels will help you love your home again. Start your project by calling us at (602) 478-5102 or email [email protected] to discuss your remodeling project.  We offer no-obligation in-home consultation. Our NARI-certified award-winning designers and craftsmen are eager to work with you to make your vision for your home a reality!   See our portfolio here.
Find more informative blogs and articles on HOUZZ and on our website www.homeworkremodels.com