A compact home bar or beverage station is one of those features that can have an outsize impact on the way a home functions. It's not on the level of a belly-up-to-the-bar-style Irish pub, but a compact home bar can spark a lively atmosphere in a relatively small footprint. Here, designers share details on modestly sized home bars and beverage stations.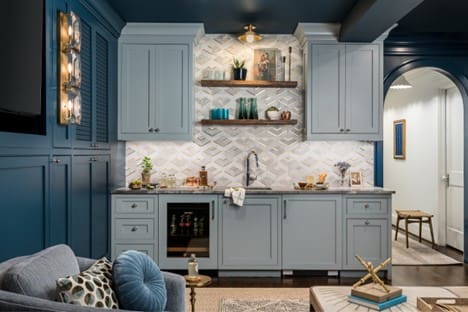 Copper Sky Design + Remodel
1. Basement Bragging Rights with a Compact Home Bar
Designer: Micaela Quinton of Copper Sky Design + Remodel
Location: Atlanta
Size: This bar is in a media room that's 500 square feet (46 square meters); 20 by 25 feet
Homeowners' request. "This bar and media room was an unusable crawl space before we excavated the basement to create a great entertaining space for this family," says designer Micaela Quinton, who used Houzz idea books to collaborate with the homeowners on design ideas. "The clients wanted to stay in their charming historic Intown Atlanta home, but they needed more space for their family. They couldn't go back or up with an addition, so we went down. This media room is a nice, large flex space for them and features a bar with all the bells and whistles, including a beverage fridge, freezer, ice maker, trash pullout, sink, storage, and display shelving."
Special features. "The tile backsplash and paint colors are really what makes this space so special," Quinton says. "The tile is a geometric pattern of matte marble and brass. The light blue Sherwin-Williams Debonair cabinet color on the bar is a nice accent to the moody paint color that envelops the rest of the room, including the walls, ceiling, and trim."
The countertop is Calacatta Cielo marble.
Designer tip."We painted the walls, ceiling, and all the trim in this room the same deep blue color, Sherwin-Williams Rainstorm," Quinton says. "It gives the space a moody, cozy feeling that works great in a basement media bonus room. A basement is a great place to go bold on color, and don't be afraid to use dark colors, even in a space with very little or no natural light."
"Uh-oh," moment. "This basement build-out started as an excavation project," Quinton says. "We turned an unusable crawl space below a historic home into a beautiful basement with 9-foot-high ceilings, a bar, media room, guest bedroom and bathroom, storage room, and home gym.
"The basement excavation process is complex and messy, and it involves structural engineering, a big conveyor belt, and a great deal of hand digging. During that excavation process, the clients were surprised by how much dirt we were removing and the extent of what was happening below their home, which they remained living in throughout the project. But they trusted our due diligence, knowledge, and experience and were thrilled with the results, especially with all the space they gained."
Tile: Lavaliere mosaic in marble and brass, 12 by 14 inches, Daltile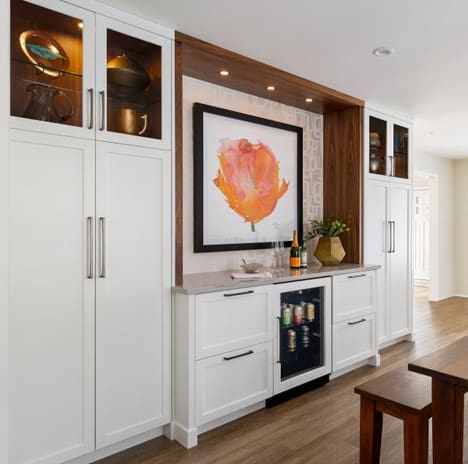 Kate Roos Design LLC
2. Cool Connection
Designer: Kate Roos of Kate Roos Design
Location: Plymouth, Minnesota
Homeowners' request."The primary objective for this kitchen remodel was to open it up to the dining room to allow connectivity between the spaces," designer Kate Roos says. "Once we looked at our options, it became clear that there would be slightly less storage in the new kitchen, so to solve this, we created a wonderful focal point in the dining room with storage that would take the pressure off of the kitchen. Pantry items, overflow serving ware, wine, and other miscellaneous items can easily fit in this area. This approach to the dining room allowed us to incorporate a beverage refrigerator so guests could help themselves. It also became a wonderful featured area for the client's art piece, an original watercolor tulip."
Roos used Houzz Pro business software for her billing, purchase orders, and proposals.
Special features. "We used a combination of white cabinetry with a walnut surround at the serving area to further frame the art," Roos says. "The walnut is repeated inside the glass cabinetry for continuity. A soft tonal wallpaper is applied to the back for interest and a little shimmer. The quartzite countertop adds an elegant feel while providing a hardworking serving space."
Designer tip. "The wall that this cabinetry is on varies in depth," Roos says. "For a unified look, the tall cabinetry on the left is only 15 inches deep while all the other cabinetry on the right is full-depth. It feels consistent even though the depth is different. This was a great way to define the dining room from the living room space."
"Uh-oh," moment. "In the wall, we were modifying between the kitchen and the dining room was a duct that we needed to relocate," Roos says. "It turned out that we could not run the duct in any of the remaining stud bays. After some serious problem-solving, we decided to run the duct behind the tall cabinetry on the left, which reduced the depth of that cabinet from 18 inches to 15 inches. This turned out to be a perfect solution. The 15-inch depth is perfect for pantry items and nothing gets lost."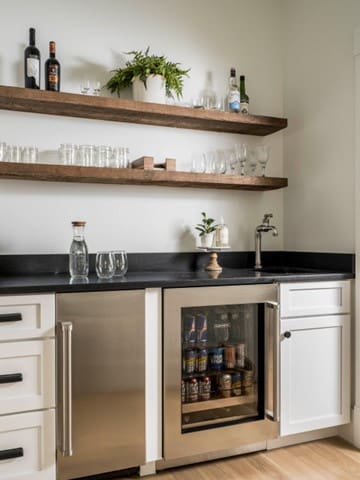 Kitchen & Bath Gallery
3. Taken for Granite
Designer: Lauren Dworak of Kitchen & Bath Gallery
Location: Douglas, Massachusetts
Size: 39 square feet (3.6 square meters); 6 by 6½ feet
Homeowners' request. "They needed this space to be really functional as well as beautiful since their guests would see the space," designer Lauren Dworak says. "We made sure the details flowed and connected back to the kitchen, with the white cabinets and black granite top. The open shelves were a great way to keep the smaller space lighter and show off beautiful glassware and wine bottles."
Special features."The rustic but simple wood floating shelves, sourced locally, gave a really beautiful natural element to the space," Dworak says. "We wanted to call back to the gorgeous woodlands surrounding the home."
Designer tip. "Adding plants brought a needed pop of color to the neutral space and again calls back to the surrounding woodlands," Dworak says. "Also, adding a unique vintage-style faucet added an element of whimsy."
"Uh-oh," moment. "It was complicated getting the ice maker, fridge, and sink in the smaller area with door swings and still have some hidden storage space," Dworak says. "We played with several options to get the best layout for the customer. The drawers ended up working really well for all the small bar tools."
Faucet: Artifacts Gentleman's bar faucet, Kohler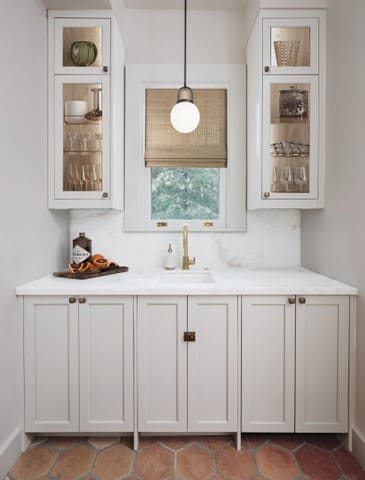 East Hill
4. Stylish Simplicity in a Compact Home Bar
Designers: Anthony Maucieri and Lisa Stretton of East Hilland Lisa Schwert Pohlschroeder of Innate Studio
Location: Pelham, New York
Size: 65 square feet (6 square meters)
Homeowners' request. "There was wasted space adjacent to the kitchen, so we converted it into a butler's pantry for easier service to the adjacent dining room," designer Anthony Maucieri says.
Special features. Walnut interiors inside the upper cabinets. Frameless base cabinets with an inset detail above the counter. Quartzite countertops and backsplash.
Designer tip. "Use the interior of glass cabinets to introduce warmth or interest to a space," Maucieri says. "The inside doesn't always have to match the outside."
"Uh-oh," moment. "There were concerns regarding the walnut stain, Maucieri says. "When the sample was viewed, it was in our showroom in hand, exposed to all different types of light. When installed, the back panel is inset by 13 inches and in a dark cavity, changing the color and darkening the tone. The moment the lights were installed in the cabinets the finish brightened and looked beautiful."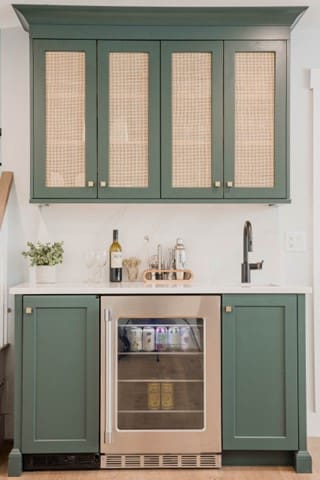 Cape Home Kitchen & Bath
5. Gorgeous Green
Designers: Kristin Whalen and Jason Fisher of Cape Home Kitchen & Bath
Location: Pocasset, Massachusetts
Size:48 square feet (4.5 square meters); 6 by 8 feet
Homeowner's request. "This homeowner is a manager for a local distiller that specializes in canned cocktails," designer Kristin Whalen says. "She wanted an area off the kitchen that would allow guests to be able to help themselves to a drink. She wanted the area to feel clean, crisp, and transitional in design."
Special features. "The glass-door beverage fridge allows guests to easily see and select their canned cocktail of choice," Whalen says.
"The Pine Grove green from Grabill Cabinets really stands out as the focal point, with natural cane webbing added to the wall doors for organic texture. The Calacatta Gold quartz countertops and full-height backsplash provide durability and contrast to the space. Finally, the use of mixed metallics — honey bronze cabinet knobs with a matte black faucet — creates visual interest."
Designer tip. "Consider paneled appliances," Whalen says. "By paneling the ice maker, we were able to bring a cohesive look to the space and blend this appliance in seamlessly."
"Uh-oh," moment. "When we first unboxed the cabinetry, we noticed that the natural cane material had been painted the same Pine Grove green, eliminating the contrast in texture we worked hard to achieve," Whalen says. "We were able to have the doors remade with the correct material and keep the project moving along."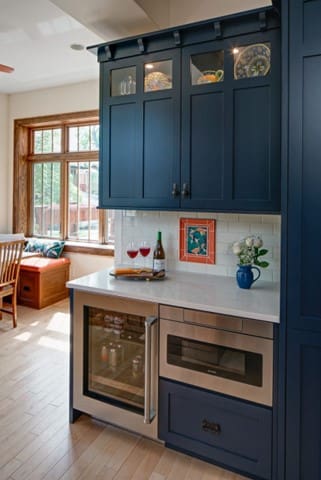 Drury Design
6. In the Navy
Designer: Samantha Schoell of Drury Design
Location: Chicago
Size: 4 feet (1.2 meters) wide
Homeowners' request. "The homeowners were interested in updating their kitchen into a more modern aesthetic that also accentuates their art-and-crafty personalities," designer Samantha Schoell says. "They not only wanted to have a place to make drinks, a counter space for serving food when entertaining but also a space to showcase their latest art pieces. The homeowners loved the idea of a bar, so I sought to address these core needs by giving them a separate beverage center, adding glass-lit cabinets for their decor to shine, and giving them a small space that makes a large impact."
Special features. Marble-look quartz countertop. Navy blue custom cabinets. Colorful backsplash accent tile featuring koi fish. Clear glass cabinets with lighting. Crown molding. Craftsman handles and knobs. Beverage fridge. Microwave drawer.
Designer tip. "Placing the bar by the dining area allows beverages to be just a short reach when eating," Schoell says. "Also, I believe this makes for a smooth transition between kitchen and dining space. Homeowners who love to entertain find bar areas not only a way to keep people out of the cooking space but also gives more space in the main refrigerator by placing all drinks in a separate beverage refrigerator."
"Uh-oh," moment."This Chicago home is over 100 years old, and sticking with the style of the home was a huge factor," Schoell says. "The home incorporated massive amounts of wood, and the homeowner was having difficulty determining the appropriate color they wanted. They were concerned with how to update an older house to a modern Craftsman style. I made the suggestion to go with a darker blue as I knew it would pair well with the wood features throughout the home and bring in the fun personality of the clients."
Backsplash accent tile: Koi Pond in turquoise, 6 by 8 inches, Motawi Tileworks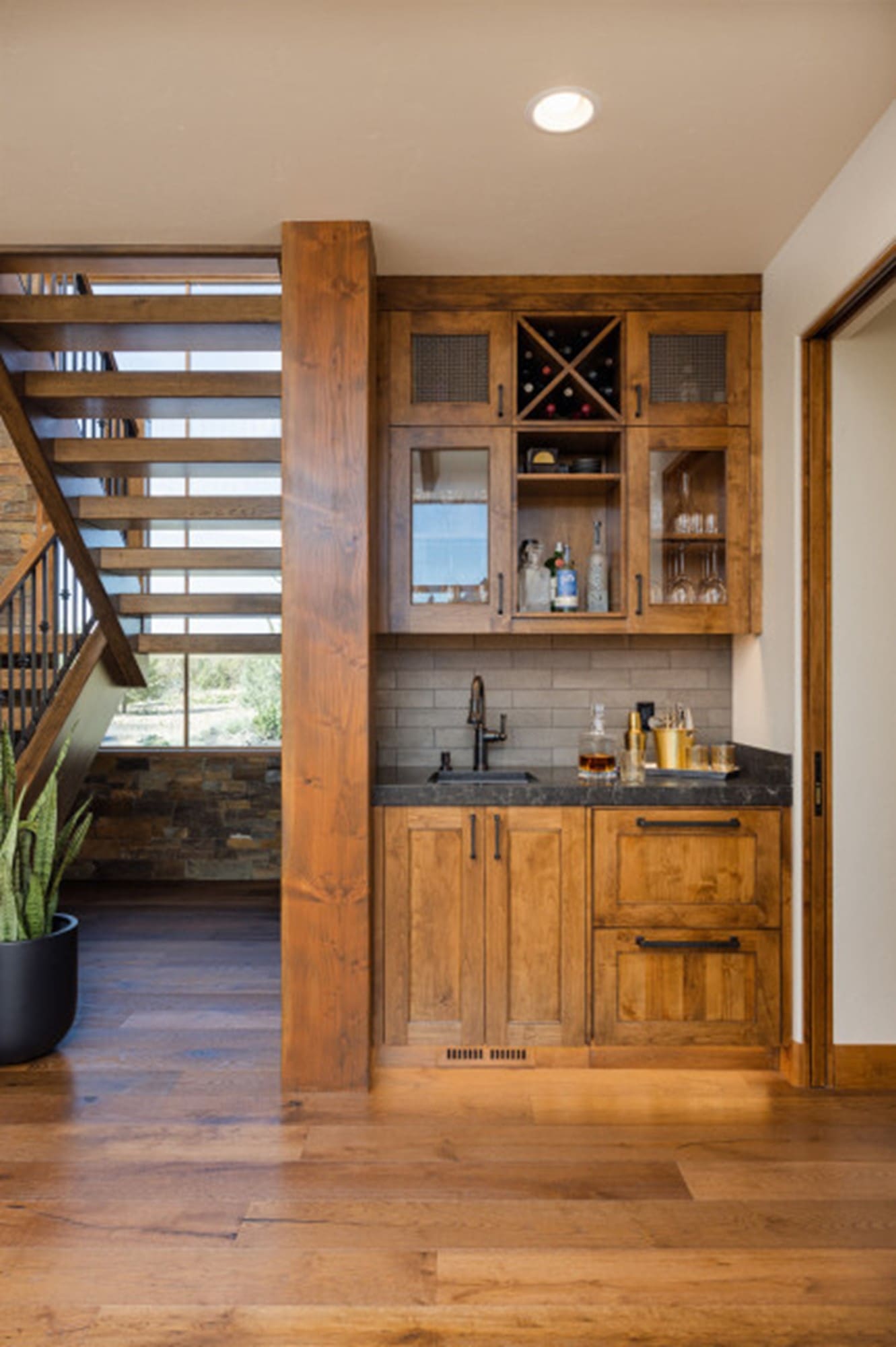 Norman Building & Design
7. Woodsy Wet Bar
Designer: Norman Building & Design
Location: Terrebonne, Oregon
Homeowners' request. A functional but beautifully detailed wet bar integrated into an entertaining space.
Special features. Custom wood cabinets with ample storage for glassware, wine, and liquor. Refrigerator drawers. Stone tile backsplash. Quartz countertop. Engineered hardwood flooring.
Mitchell Parker – Houzz Editorial Staff. Home design journalist writing about cool spaces, innovative trends, breaking news, industry analysis, and humor.
Premier Home Remodeling in the Greater Phoenix Area
For high-end home design, build, and remodeling in the greater Phoenix area that reflects your vision, Homework Remodels will help you love your home again. Start your project by calling us at (602) 478-5102 or emailing [email protected] to discuss your remodeling project. We offer no-obligation in-home consultation. Our NARI-certified award-winning designers and craftsmen are eager to work with you to make your vision for your home a reality!   See our portfolio here.
Find more informative blogs on our website here.