Looking for fresh flooring? A finish that wipes up easily and camouflages scratches is a good place to start. But when it comes to flooring trends, above all else, floors need to work for us. If you don't have a flooring material that can stand up to the wear and tear of your family and lifestyle, it's time to rethink your flooring goals.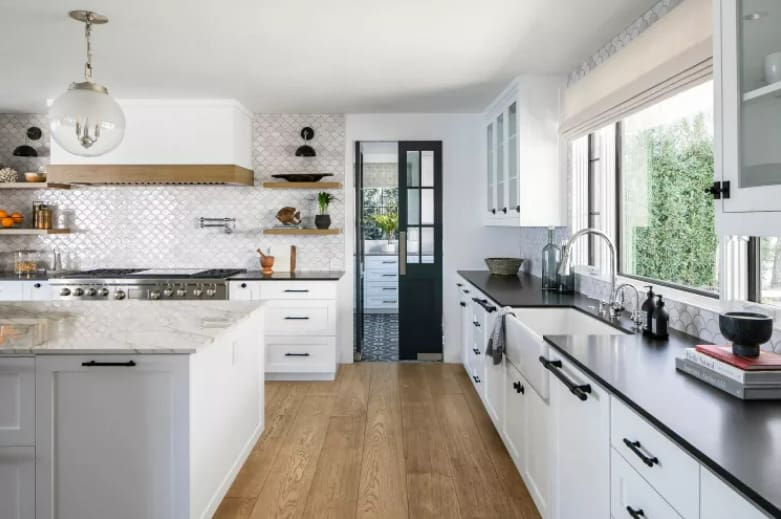 PHOTO: RYAN GARVIN
"People expect more from their flooring in terms of scale, style, and performance," says Ashley Biscan, senior editorial manager of Floor & Decor. For that reason, she says both performance flooring and wide-plank hardwood have become mainstays for homes across the country. But while resilient surfaces are a must, bringing style to the forefront is another important consideration.
"Personalization is everything and rather than overlooking the floor, homeowners start with a solid foundation so the whole space feels customized," says Biscan. Whether that means selecting a porcelain tile that is both durable and available in a nearly endless array of styles, opting for an unlikely installation pattern, or even mixing tones and textures, your flooring can tell a lot about your home from the moment guests step inside. So, what do you want it to say? Consider these top flooring trends of 2023 to choose the right fit for your family.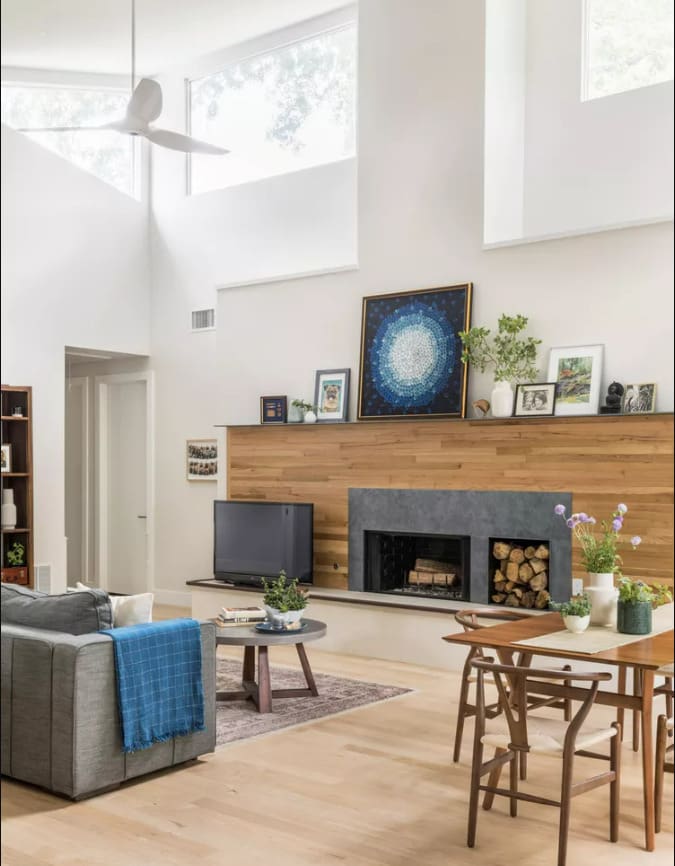 PHOTO: LISA ROMEREIN
Lighter, Brighter Wood Finishes
Wood flooring with character-rich, lighter stains shows no sign of waning in popularity, says Margaret Donaldson, founder of Margaret Donaldson Interiors. "Homeowners are primarily using white oak, but walnut is starting to surface more, especially with lighter finishes," she says. For those on the coast, engineered wood products are a sound way to get the look, as this material doesn't see the warping issues one might experience with natural products in a humid climate.
Maximalist Installation
Floors aren't taking the backseat these days. "More is more, and bigger is better," says Biscan. "Large-format tile and stone are making a statement with ultra-dramatic natural looks that make your space appear seamless."
To give your space a high-end finish, Biscan recommends taking large-format floor tile all the way up onto the kitchen backsplash or up a bathroom wall. It provides an unmatched level of luxury that is on trend not only for flooring but overall home design too.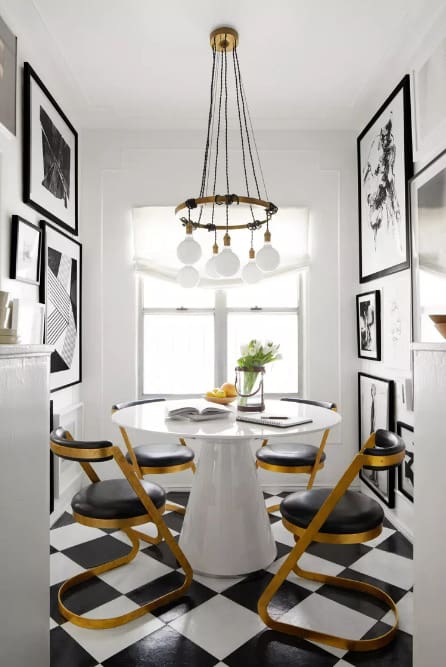 PHOTO: DAVID TSAY
Pattern and Color Play
When it comes to floor colors, muted shades are taking hold. Browns have become a popular alternative to black as they are better suited to play off the tones and materials that are sweeping the design world, like terracotta and shades of green. "Midcentury colors have taken to the West Coast's sensibility with more sun-washed looks rather than primary palettes," says Biscan.
While floor colors are taking a softer path, pattern play is still making a splash, particularly checkerboard. "Whether you prefer high contrast looks or a more subtle nod to the trend with lower contrast, the pattern is playful," Biscan explains.
Neutral Shades
While color trends come and go, neutrals will always have a place in design. But staying neutral doesn't have to mean playing it safe or skipping character-rich details. Donaldson says the key to making neutrals work now is by utilizing a blend of tones throughout the flooring. "Finishes that are blended with warm and cool tones but also soft satin or matte [finishes] are currently the most popular," says the designer.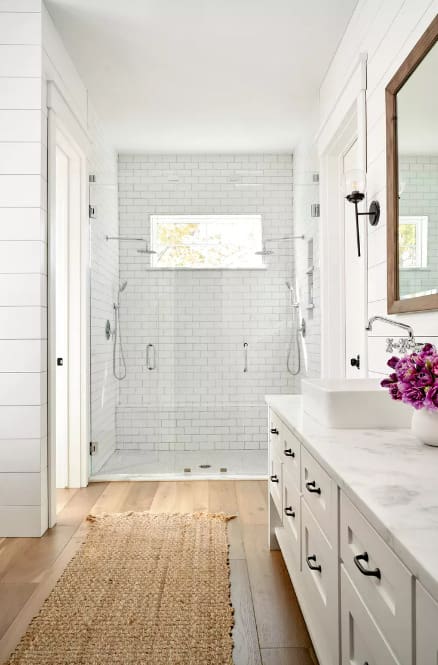 PHOTO: JAMES NATHAN SCHRODER
Textural Interest 
"Designers and dreamers alike crave the texture and uniqueness of natural stone," says Biscan. "Matte and honed stone finishes and artisanal handmade looks enrich a space and tell a style story." If you prefer the look of wood, you can still set the tone for an inviting space with mattified wood or hand-scraped wood textures. Donaldson also suggests wire brushing as a more popular wood finish. "[It] creates a unique grain and light texture versus smooth," she explains. It's all about layering details, whether it's color, layout, or finish, to create a unique look for your space.
Functionality at the Forefront
Floor trends aren't all about looks. With so many material and finish options, floors can now meet our durability needs without sacrificing a bit of style. According to Biscan, these aren't your grandmother's vinyl and laminate floors. "Performance flooring has paved a new frontier with the most cutting-edge innovation," she says. "Authentic textures, prints, and enhanced features like sound reduction, waterproof tech, and more keep homeowners coming back to performance flooring to withstand their busy households and lifestyles."
By Patricia Shannon, BHG
Premier Home Remodeling in the Greater Phoenix Area
For high-end home design, build, and remodeling in the greater Phoenix area that reflects your vision, Homework Remodels will help you love your home again. Start your project by calling us at (602) 478-5102 or emailing [email protected] to discuss your remodeling project. We offer no-obligation in-home consultation. Our NARI-certified award-winning designers and craftsmen are eager to work with you to make your vision for your home a reality!   See our portfolio here.
Find more informative blogs on our website here.